Representatives from local consumer champion for health & social care Healthwatch Torbay have travelled to London to raise the real life concerns of people using health and social care services at the Houses of Parliament, Westminster.
Healthwatch Torbay joined forces with more than 70 attendees from fellow local Healthwatch organisations across the nation at a special event on 27 October, attended by more than 30 parliamentarians, as well as key decision makers from across health and social care.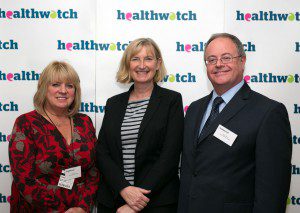 The event provided an opportunity for Healthwatch Torbay to speak with both Torbay MP Kevin Foster and Totnes MP Dr Sarah Wollaston about the work they have been doing to shape local services on behalf of Torbay residents, including:
Engaging with the community at events including town centre consultation caravans, adult safeguarding week and a dedicated mental health awareness event attended by over 900 people.
Consulting with the public on various local issues including the Torbay Hospital re-design project, the Commissioning Strategy and the Urgent Care Strategy.
Encouraging hard-to-reach groups such as young people and carers to highlight the problems they face, whilst also providing an opportunity for vulnerable people such as the homeless population to tell their story about being unsafely discharged from hospital.
Public feedback helping to produce reports, recommendations and publications into areas such as Dementia in Care Homes, the Cost of Wasted Medication, Unsafe Hospital Discharge, Torbay Carers Services, GP Appointment Systems, the Health and Wellbeing of young people, and Community-based health-related services.
Sharing local views at a national conference on eye care and instigating a national debate in the House of Lords after escalating a local transgender issue.
Being shortlisted for three Healthwatch Network Awards, and winning a 'Best Apprenticeship Employer' runner up award at the South Devon Business Excellence Awards and a national patient experience finalist award for their innovative online rate & review system.
 Healthwatch Torbay Chair Dr Kevin Dixon commented:
"It was a great opportunity to attend Parliament and be involved in Healthwatch England's annual report launch. It was a real pleasure highlighting our hard work locally to parliamentarians, especially our own MPs Kevin Foster and Dr Sarah Wollaston. The efforts of our small, dedicated team of staff and volunteers at helping to influence the way health and social care services are delivered in Torbay were praised by all we met, particularly by Healthwatch England.
It was also a pleasure to fly the flag for Torbay and be seen as an exemplar of good working practice amongst both our Healthwatch peers and the key health and social care decision-makers and VIPs present at the reception. I am proud to see that our work in Torbay is raising very impressed eyebrows nationally."
Member of Parliament for Torbay Kevin Foster said:
"Healthwatch Torbay plays a vital role as the champion of patients in Torbay, giving residents the chance to air their views and concerns about, but also to praise, the NHS services we receive. I regularly talk with Healthwatch Torbay, but it was good to be able to welcome Kevin and Pat to Westminster to discuss the work their team is doing to help influence the future of health services in the bay."
The reception was hosted by national body Healthwatch England to mark the launch of its third annual report, "People as Partners" and highlight the work of the Healthwatch network nationwide.
To read more about what Healthwatch England and the rest of the network have achieved over the last year go to http://www.healthwatch.co.uk/annual-report.
For more information on Healthwatch Torbay or to rate and review a local service, please visit www.healthwatchtorbay.org.uk.