A biker, who is being hailed a hero, has been found through Facebook after an emotional appeal by a local mum.
The post appeared on Facebook page Spotted Torquay after an incident in which a pram's brakes failed with a 9-month-old baby inside.
The incident happened on Wednesday, 17th April near Babbacombe in Torquay.
After the pram's brakes failed, it rolled down a hill and into the path of a car, a motorcyclist got inbetween the car and pushchair, taking the impact and saving the baby.
Posting on Spotted Torquay, the appeal to find the heroic biker said:
"Hi all, I need your help! Early this afternoon a horrific accident was averted by a true gentleman and I want to track him down.
I had just finished visiting my mother and I had parked on a corner hill near babbacombe and was getting ready to put my 9 month old into the back of the car when the prams brake bar failed and rolled down the hill and into the road just as a car was coming around the corner at a speed I tried running after it but theres no way I would have caught up with it.
Out of no where a motorbike shot straight in front of the pushchair and stopped the car from hitting myself and my baby by taking the full brunt of the impact which knocked him clean off and landed at least a meter away. He then immediately sprang to his feet recovered the pushchair and brought my baby back to me. Then he tried his best to calm me down (I was in hysterics) as well as the calming down the elderly lady driving the car with not a care for himself. Taking into account that a fully grown man on a motorbike had been hit with enough force to be thrown off I am sure that if he hadnt been there my child would have been very seriously hurt or worse.
I didnt think to ask his name at the time as he was more concerned that we were all ok and able to get home safely.
Before any trolls decided to comment that I am an incompetent mother for allowing this to happen, this pushchair was BRAND NEW less than three weeks ago and cost us nearly £200 from amazon and obvs I am very angry that this has happened. Parking on a slight hill should not be a problem for a new buggy and I will be having a very heated discussion with the manufacturer!!! Anyway the point of this post is primarily to check the biker is ok as he was bleeding from this mouth after it happened and also Ive talked it over with my hubby and we want to pay for any damage to the bike. I am fairly sure I have seen him working in a shop nearby but cant remember which? he was wearing all black, open top helmet tanned with a beard and looked in his late 20s. If this is no help the bike was black and silver with a big luggage crate on the back. I cant tell you its brand as i know nothing about any kind of bike.
If anyone knows who fits this description please let me know as I would really like to speak to him again! I would also really like to thank the lady driving the car who was very shook up but refused to take any money for the scratches on her bumper and was very understanding of the whole thing. I dont have facebook anymore so if this gent would come forward my sister in law will pass his details onto me on the off chance he sees this. If you are reading this thank you so much. I really believe I owe my childs life to you, Im not great at describing things as you can probably tell but this was a real heart stopping moment. From an extremely shook up but safe mother and child.
Thank you and I hope yourself and your motorbike are ok. True heroes still exist,"
And it wasn't long before he was found!
Meet local man Jamie Matthews, 22.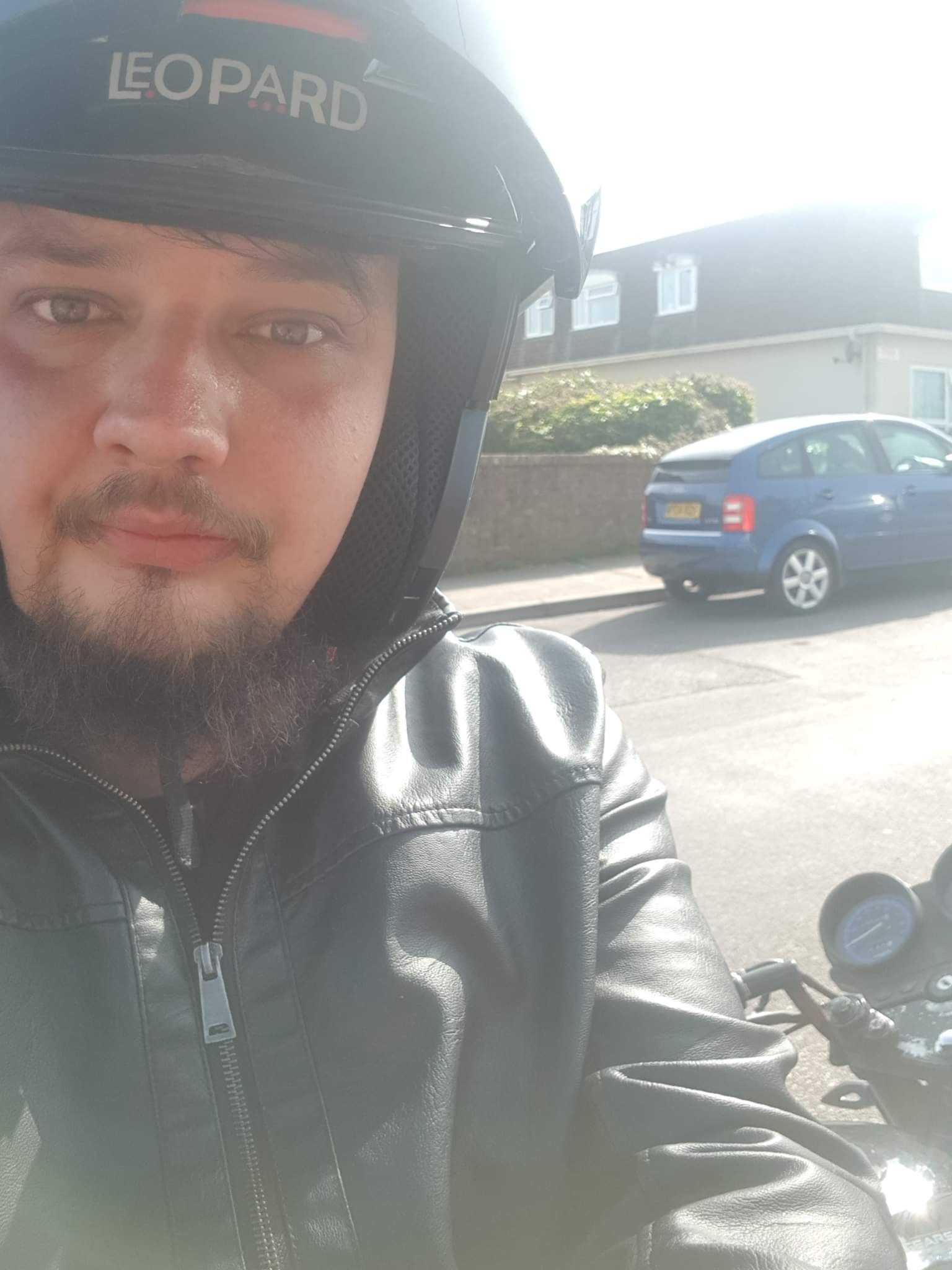 Jamie responded to the post: "Hello- I was the biker, I really wasn't expecting this post but thank you to everyone for such lovely comments and being so compassionate towards this mother. It really wasn't her fault and was simply a freak accident. To the OP thank you for your concern, the bleeding from the mouth was just a cut in my cheek from hitting the floor- asides from that and a little bruising I am perfectly ok 🙂 thank you for your offer to pay for any damages but asides from a little scarring on the back box, slightly bend handlebar (since fixed) and a few scratches here the bike is fine and running strong…. well until it's MOT next month but that damage was there well before this ? please instead put that money towards a new pram just to make sure this doesn't happen again! I'm just glad yourself, the baby and the lady driving are all ok! I don't see it as heroic personally, more just the right place at the right time and I m sure anyone else would have done the same! Side note: pretty impressed I looked to you like I was in my late twenties having not even reached 23 at the moment but I'll choose to believe that was because of the helmet, also feel free to message me on here if you're still concerned about anything. I hope this can help you de-stress slightly."
Jamie told us he is "genuinely in shock and overwhelmed" by the comments.
You can see the post on Spotted Torquay and the hundreds of comments here.
You can join us on our social media pages, follow us on Facebook or Twitter and keep up to date with whats going on in South Devon.
Got a news story, blog or press release that you'd like to share or want to advertise with us? Contact us