Well-loved local charity, Rowcroft Hospice, is issuing a renewed call for support as it nears the £585,000 fundraising target needed to secure its finances this year.
Thanks to the efforts and generosity of the local community, the hospice's urgent appeal has so far raised an incredible £500,000. The hospice is now calling on the community for their support to raise the final £85,000 by the end of March 2017.
Last July, Rowcroft announced it was struggling to maintain current levels of care to local families due to an increase in demand for its services and a shortfall in legacy income. As a result, to avoid closure, the hospice had little option but to make substantial cuts to its services.
Finance and Commercial Director, Jon Hill, said: "While the hospice still has a way to go to reach financial stability, the picture is looking more positive. We have managed to protect patient numbers through redesign of our remaining services, improved efficiency and an increased percentage of patients receiving care in their own homes. As a result of these reductions, we will save £500,000 in running costs by April 2017. During the next financial year we will have a full year's effect of the savings, reducing costs by £1.1million."
Since making the announcement, the hospice has received £500,000 through one-off donations, lottery memberships and regular monthly donations. Over £200,000 of this has been raised by the local community who have rallied organising coffee mornings, cake sales, craft fairs, auctions and more. And over £75,000 has come from people who have set up regular monthly donations to the hospice.
Jon continued: "We are delighted to be so close to reaching our Urgent Appeal target of £585,000. This is all thanks to the amazing response and incredible support of our local community who understand how vital Rowcroft's care is for local families facing the most difficult of times."
Whilst the Urgent Appeal is raising vital income to secure the hospice's immediate future, Rowcroft needs the community's support in the long term to ensure the provision of services for future generations of local people.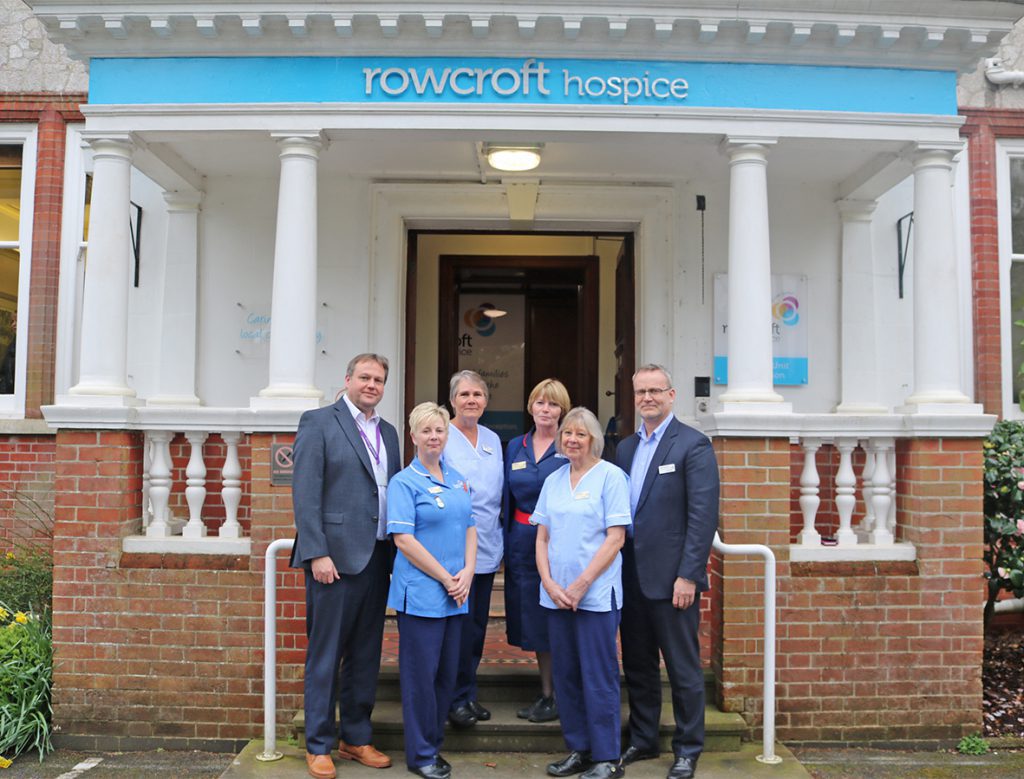 With Mark Hawkins, the new Chief Executive at the helm, the South Devon charity's key focus is now to develop new income streams.
Mark said: "We need to ensure we have a secure and sustainable future; one where we are more in control of our own destiny and where we can weather any storm.  We are working to a three year plan to improve the financial stability of the hospice. Once greater financial security is achieved, we will be able to increase patient numbers and the breadth of care once more."
Despite the reduction in services the hospice will still care for over 2,000 patients and their families this year, providing care and support both at the hospice and out in the community.
Rowcroft's Hospice at Home Nurse, Claire Redhead said: "I see first-hand what a difference Rowcroft's care and support means to patients and their families. This time last year, we faced the prospect of the hospice closing if we didn't take action. As a nurse, hearing this news filled me with dread."
Every year it costs Rowcroft well in excess of £8m to provide its services, and of this almost three-quarters is funded through donations and gifts in Wills. The NHS provides funding for the remaining 27% of the costs incurred by the hospice.
Whilst Rowcroft's Urgent Appeal is raising money for this current financial year, the next beginning 1 April 2017 will also be crucial for the hospice.
Claire added: "Now we've reached a more positive position, we're asking you to please continue supporting us. The best way to do this is by donating £5 a month as this provides a regular and sustainable income for the hospice."
More information about Rowcroft's funding shortfall and how to support the hospice's services can be found at www.rowcrofthospice.org.uk. Get weekly news by email