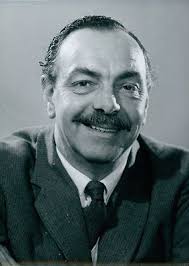 "Gilbert Vinter was a luminary of the brass band world as a composer and led its much needed rebirth away from tawdry operatic arrangements, sanctimonious religiosity and vacuous display. Every new generation of brass band lover owes him the greatest debt of gratitude imaginable. A man touched by genius."
Here at WASD we like to remember those who have helped to make Torquay what it is today and who made an impression on the wider world. Some are very well known, while others have made their mark in their own fields. One of the latter was Gilbert Vinter, named as one of the 'Top 10 Greatest Brass Band Composers'.
Gilbert was born at Peaslake in Surrey in 1909. He joined the BBC Wireless Military Band in 1930 and served as a bassoonist. The image (below left) is of the Band at the Wharf Studios in 1932 – Gilbert is on the extreme left of the back row sitting down. In 1938, while at the Royal Academy, he was appointed professor of bassoon.
During the Second World War new aircrew trained at an Aircrew Reception Centre and then the Initial Training Wing before actual flying experience in the UK, North America or Africa. In their spare time, there would be the cinema, concerts and dances to attend. Torquay was one of the main places for aircrew training, and from 1941 on much of the music was supplied by the RAF Central Band. Gilbert had enlisted in the RAF in 1940 and in April 1941 he was posted back to the Central Band at Uxbridge and then given the task of forming a band for Flying Training Command, first as a sergeant and later as warrant officer.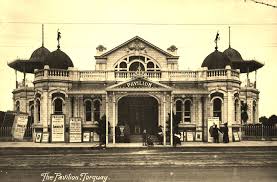 Gilbert arrived in Torquay at the beginning of June 1941 and over the next few weeks other bandsmen started to arrive. By September the Band was up to strength and they gave their successful first official performance for the RAF Benevolent Fund at Torquay Town Hall. A few days later the Band performed again, this time at a Youth Rally and March past, again a success. So began Gilbert's association with Flying Training Command Band and with Torquay that was to last through to 1944 and to a longer association with other Band members. The photo (below left) is of the Flying Training Command Band in Torquay in 1941.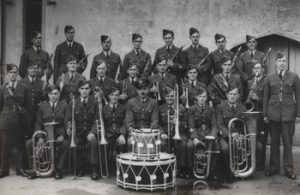 Soon the Band was in demand not only for ceremonial duties but for concerts and dances, very often playing at the Imperial Hotel. Their duties took them to many towns, aircraft factories and other Flying Training Command establishments in Cornwall, Devon, Dorset, Somerset, Gloucestershire, Shropshire, Hampshire, Staffordshire and Wales. Sometimes they would be on the road for weeks at a time. In March 1943 they took part in massed band parades in various parts of London. Also, the Band was often called upon to take part in broadcasts for the BBC home and overseas services.
Gilbert was already an accomplished composer and arranger before the war and continued during his time in the RAF, arranging music and writing original compositions. Gilbert also moonlighted as the conductor of the Torquay Municipal Orchestra at the Pavilion. It was during his time in Torquay that he wrote Hunter's Moon for horn and orchestra. This piece was premiered by John Burden – for whom it was written – in our town in 1942. He also wrote 'Per Adua Ad Astra' and there were many more arrangements and original pieces of music.
Released from the RAF in November 1945, Gilbert formed the International Light Orchestra. In 1946 he then succeeded Rae Jenkins as conductor of the BBC Midland Light Orchestra based at Birmingham. He guest-conducted with various European radio orchestras and his works include forty original compositions spanning opera through to film music – about two hundred arrangements.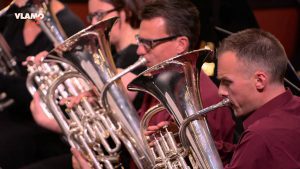 One of the longest running programmes on radio is 'Friday Night is Music Night' on BBC Radio 2. The programme has been running since 1952 and some of the music was arranged, composed and conducted by Gilbert.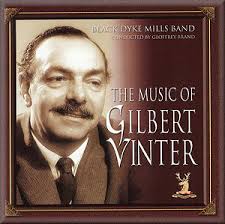 Indicating his importance to the development of music, here's just one tribute to Gilbert out of many,  "Without Gilbert Vinter the brass band movement would have died of musical boredom – suffocated by blandness, lack of invention and foresight, killed by parochialism and narrow mindedness. The early 1960's were a monochrome time for the brass bands; grey and uninteresting, a diet of second-rate original compositions and unimaginative arrangements of overtures – Gilbert Vinter changed all that forever."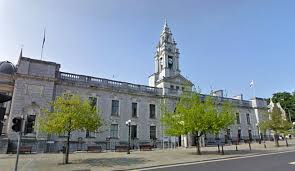 Gilbert spent his last years in Cornwall at St. Mabyn, Trethevy and Tintagel – he was particularly interested in country life and natural history. He died at 60 years of age in his adopted Cornwall on 10 October 1969.
To close, here's Hunter's Moon, written in Torquay back in 1942:

…