Investigations continue into the cause of a tragic boat accident on Saturday 2nd May.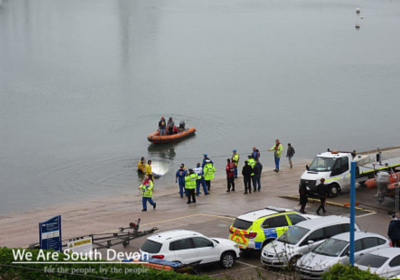 Four people were thrown overboard. Very sadly a teenager, Emily Gardner, from the Gloucester area, was trapped underneath a speedboat.
Reports suggest that the boat hit a wave before overturning.
The group were on holiday in Devon at the time of the incident, and Emily was with a friend's family.
Police are investigating the cause of incident on behalf of the HM Coroner. It is a joint investigation with the Marine Accident Investigation Branch (MAIB). Police and the MAIB are also being assisted by the Maritime and Coastguard Agency.
Detective Sergeant Andy Turner, deputy Senior Investigating Officer, based in Torquay, said: "Our thoughts are with the family and friends who are affected by this tragic incident.
"I would like to thank the public and the emergency services for their assistance in getting the casualties to hospital swiftly.
"We are keen to speak to any witnesses who have not already come forward."
A police spokesperson added: "Enquiries are continuing into the cause of the incident. From the enquiries conducted so far, reports suggest that the boat hit a wave before overturning. The four people on the boat were then thrown overboard as a result.
"It appears that Emily became trapped due to her buoyancy aid getting caught on part of the boat.
"The other people on the boat and the jet ski riders tried to help Emily but could not free her. The RNLI crew freed her from the boat and took her to the shore.
"At this stage of the investigation we are satisfied that there are no suspicious circumstances and we believe that this was nothing more than a tragic accident."
Witnesses are asked to email101@devonandcornwall.pnn.police.uk or call police on 101, quoting log 326 of 2 May.