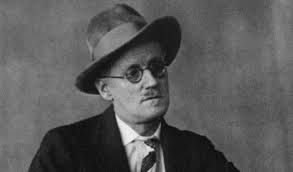 "The sea, the snotgreen sea, the scrotumtightening sea", Ulysses

The Irish novelist and poet James Joyce (1882-1941) is considered to be one of the most influential writers of the twentieth century.
Though born in Dublin, James emigrated to the continent in his early 20s. While most of his life was spent outside of Ireland, nevertheless his work remained based on the Irish capital and its characters. His books include 'Dubliners' (1914), 'A Portrait of the Artist as a Young Man' (1916) and 'Finnegan's Wake' (1939).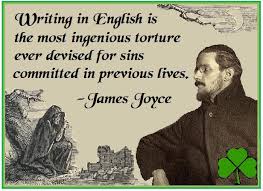 He is, however, best known for 'Ulysses' (1922), a landmark novel which displayed a unique way of writing. 'Ulysses' chronicles the encounters of Leopold Bloom in Dublin in the course of an ordinary day, 16 June 1904. The novel is around 265,000 words in length, uses a lexicon of 30,030 words and since publication has attracted controversy and scrutiny. This is partly due to James' use of a stream-of-consciousness style, metaphors, symbols and ambiguities linking together to form a network of connections. Leopold Bloom then "becomes a modern Ulysses, an Everyman in a Dublin which becomes a microcosm of the world."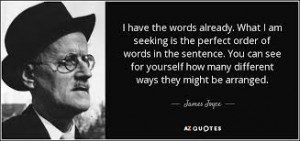 In 1998, the American publishing firm Modern Library ranked Ulysses top of its list of the 100 best English-language novels of the twentieth century. TS Eliot, another Torquay visitor, said, "I hold this book to be the most important expression which the present age has found; it is a book to which we are all indebted, and from which none of us can escape."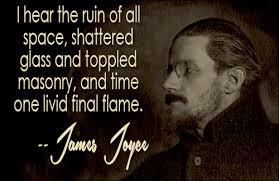 'Ulysses' was first serialised in the United States and was promptly declared obscene. Throughout the 1920s, the US Post Office burned copies of the novel. To test the ban in 1933, the publisher Random House imported copies which were seized by customs. The following court cased found the book was not pornographic – the US then became the first English-speaking country where the book was freely available. Similarly, in 1919 sections of the novel also appeared in the London literary journal 'The Egoist' but the novel itself was banned in the United Kingdom until the 1930s.While Ulysses was never banned in Ireland, neither was it available there.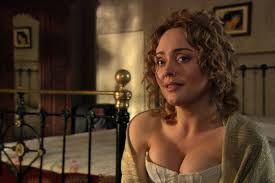 Here's the Torquay connection. In May 1927, while Joyce was living in Paris, he received a letter from Stuart Gilbert (1883-1969) an English literary scholar and translator. Stuart had read 'Ulysses' whilst in Burma where he was a judge in the colonial service. He had noted some translation errors in the French version of 'Ulysses' and he offered to assist with a new translation. In 1929 Joyce suggested to Gilbert that he write his biography. Though the Englishman declined, as an alternative he decided to write a study of 'Ulysses'. To make this the definitive analysis, Gilbert would need to undertake detailed interviews over a long period. Accordingly, in July 1929 the Joyce's, along with Gilbert and his wife, journeyed to Torquay and stayed at the Imperial Hotel for a month – that's Joyce, Moune and Stuart Gilbert in  Zürich in 1932 pictured right. During that Torquay stay, the exploration of the meanings of one of the twentieth century's most influential novels took place.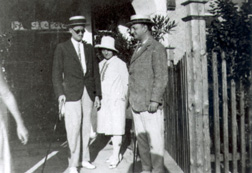 The book, 'James Joyce's Ulysses: A Study by Stuart Gilbert', came out in 1930. It was the first in-depth study of 'Ulysses', the structure of the book and its parallels with Homer's 'Odyssey'. This is from a recent review: "With the passing of each year, Ulysses receives wider recognition and greater acclaim as a modern literary classic. To comprehend Joyce's masterpiece fully, to gain insight into its significance and structure, the serious reader will find this analytical and systematic guide invaluable. In this exegesis, written under Joyce's supervision, Stuart Gilbert presents a work that is at once scholarly, authoritative and stimulating."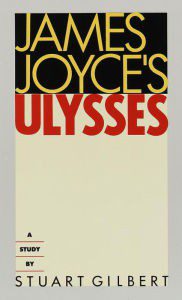 While in Torquay, the two couples were, "joined there by friends from time to time… In his usual deliberate, though seemingly desultory way, Joyce read a series of strange newspapers and magazines… During the afternoons he lay on the beach, as he loved to do, fingering the pebbles for texture and weight. Occasionally he had a rush of energy, and during one of these vaulted over a wall but fell, because his sight was poor, on the other side, hurting his arm. In the evenings he went with Gilbert to local pubs, sipping a little cider (which he did not like), but mainly listening to several conversations at once and, to Gilbert's wonder, following them all…"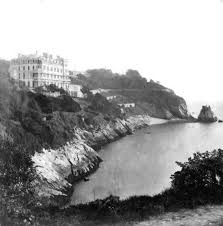 Incidentally, a few years ago a rare signed first edition copy of Joyce's 'Dubliners' went for €60,000 when it came up for auction at Sotheby's in London. The book was signed by Joyce while he was staying in Torquay on August 4, 1929, and it was presented by him to Jacob Schwartz, proprietor of the Ulysses Bookshop in London.
Ulysses was made into a film in 1967, while the similarly focussed 'Bloom', came out in 2003:
The book itself has had a great impact on our culture, and the references to 'Ulysses' are numerous. Here's just a few: In Mel Brooks' 1968 film 'The Producers', Gene Wilder's character is called Leo Bloom and Bloom first meets Max Bialystock on 16 June; a 2009 episode of The Simpsons', 'In the name of the Grandfather', featured the family's trip to Dublin and Lisa's reference to Bloomsday; the song 'Flower of the Mountain' by Kate Bush sets to music Molly Bloom's soliloquy:
One enduring celebration of the work is Bloomsday, an annual commemoration of James' life during which the events of 'Ulysses' are relived on 16 June. As is to be expected Dublin began the tradition which is first mentioned in a letter by Joyce in 1924: "There is a group of people who observe what they call Bloom's day – 16 June." The enthusiasts planned to travel round the city, visiting the scenes of the novel. The pilgrimage, however, was abandoned halfway through, when the participants became too inebriated and argumentative to continue.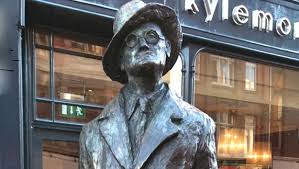 Bloomsday is now celebrated around the world, often in places with no connection to James Joyce. The day involves a range of cultural activities including 'Ulysses' readings and events and, of course, pub crawls often in Edwardian attire. Alongside Dublin – where in 2004 10,000 people were treated to a free, open-air, full Irish breakfast – Washington DC, Philadelphia, New York, Detroit, Los Angeles, Cleveland, Wichita, Virginia, Maine, Sydney and Melbourne all feature Bloomsdays. In Europe the day is celebrated in Prague and Genoa, alongside Trieste which features a Joyce Museum – where the first part of 'Ulysses' was written. Perhaps the most unexpected Blooomsday takes place in the Hungarian town of Szombathely, the fictional birthplace of Leopold Bloom's father. The obvious exception is, of course, Torquay where we do have a real association but ignore the day completely. If only we could find some connection with Agatha (b*****) Christie..!
So, if you ever need an excuse for a large intake of Guinness in a Torquay pub on 16 June, consider celebrating Bloomsday.