Living Coasts is moving some precious specimens – but keepers have to make sure they get the box the right way up! The cassiopea, or upside-down jellyfish, lives – as the name suggests – upside down, with its tentacles pointing upwards.
Living Coasts Operations Manager Clare Rugg said: "They are found in aquariums but they are not so easy to breed – though we have been very successful. Ours are excellent specimens because of the fresh sea water and specialist lighting here. Like a lot of invertebrates, many start life but few survive to adulthood, so it is hard to count the young medusas– but we have raised 35 to full size. We now have around 42 adults."
On this occasion staff are sending ten jellyfish on the short journey to the National Marine Aquarium in Plymouth. The aquarium section of Torquay's coastal zoo is home to around 195 individuals of 36 species, including 19 fish species. There are 10 water systems and a total of 21 tanks.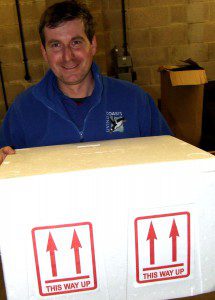 Upside-down jellyfish are effectively floating greenhouses, with algae in their tentacles – correctly lappets, or oral arms – which make food using sunlight. The zoo's aquarium uses specialist lighting to replicate sunshine. They have their common name because they live upside-down on the seabed in order to photosynthesise as effectively as possible.
And here's one more amazing fact: these jellyfish are sometimes picked up by the crab Dorippe frascone and carried on its back to defend itself against predators. For more information go to www.livingcoasts.org.uk or ring 01803 202470.
For more community news and info, join us on Facebook: We Are South Devon or Twitter: @wearesouthdevon