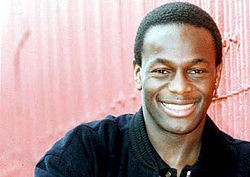 "Someone who struggled with a difficult family background and a host of prejudices, against his ethnicity, his sexuality and his faith, in a time that probably wasn't ready for him." Juliet Jacques on Justin Fashanu
In 1991 Torquay United had been newly promoted to Division Three and wanted a high-profile and affordable player to increase attendance. Consequently, the talented player Justin Fashanu signed for United on 23 November. Torquay paid Justin three times more than their previous highest earner. He played 21 league games that season and scored 10 goals, though he was unable to save Torquay from suffering relegation from the Third Division.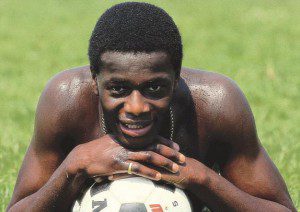 Justin, however, was a complex character and a magnet for the tabloid press due to his high profile. He was the first black footballer to command a £1million transfer fee with his transfer from Norwich City to Nottingham Forest in 1981. In 1982 he released the disco track 'Do It Cos You Like it'. Yet, it was his sexuality that attracted most sensationalist attention.
In 1990, he publicly came out as gay in an interview with the tabloid press, becoming the first prominent player in English football to do so. The headline in The Sun screamed: "£1m Football Star: I AM GAY. Justin Fashanu confesses". Note the use of the term 'confesses' – the verb, "to admit that one has committed a crime or done something wrong". Although Justin claimed that he was accepted by his fellow players, he admitted that they would often make jokes at his expense. He also became the target of constant crowd abuse.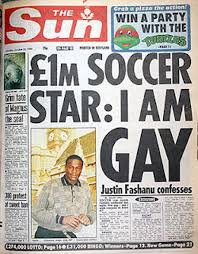 Justin wasn't, on the other hand, shy of the media. He often sold stories about his private life, including a supposed relationship with Coronation Street's Julie Goodyear. He consequently had numerous appearances in the papers – one being a 1992 Guardian article where he urged readers to vote Conservative.
In February 1992, Justin was given the role of Torquay's assistant manager. Then, in February 1993, as Torquay was battling against a second successive relegation to the Football Conference, he applied for the vacant post of manager. He was turned down. He left Torquay, having scored 15 goals in 41 games. He went to play for Scotland's Airdrieonians and then Heart of Midlothian. Midlothian sacked him in February 1994 after his attempts to sell stories to the Sunday People about his supposed affairs with Conservative MPs. Justin had been questioned by the police and admitted that none of the stories were true.
After moving to the United States, in 1998 he was questioned by police when a seventeen-year-old boy accused him of sexual assault. He fled to London where, on the morning of 3 May, he was found hanged in a deserted lock-up garage he had broken into after visiting a local sauna.
In his suicide note, he denied the charges brought against him in the US. He said that the sex was consensual, and that he had fled to England because he felt he could not get a fair trial because of his homosexuality: "I realised that I had already been presumed guilty. I do not want to give any more embarrassment to my friends and family."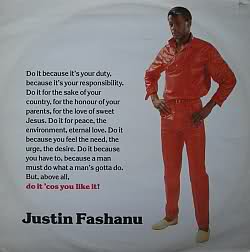 Recently, Justin was listed at number 99 in the Top 500 Lesbian and Gay Heroes in The Pink Paper.
Rather than his sad early death, let's remember Justin for his very real talent as a footballer.  Here are two of his goals for the Gulls against Hereford United during the two league cup ties played on the 18th & 25th August 1992: