At Kings Ash Academy we have been trying to raise the profile of writing in order to enthuse and motivate our pupils to want to write for pleasure. This is an important skill for the pupils to develop in order to express views, emotions and knowledge as they grow.  We have had the opportunity to work with Cat Weatherill; performance storyteller and Author, Andy Ballantyne, News broadcaster from Heart FM and poet Dreadlock Alien who helped teach some year 5 children to perform.
In year 4, the children worked with News broadcaster Andy Ballantyne from Torbay's Heart FM to look at how to use concise, correct and confident voices. The children had a go at using a real microphone to broadcast mock news reports. They later used their new knowledge and skills they learnt to write their own broadcasts for the school website.
Year 5 children had the opportunity to work with poet Dreadlock Alien who worked with the children on performance poetry, rapping and beat boxing. Through this 5 children were chosen to write their own poem based on their history topic of Ancient Greece and perform this at Torquay's Princess theatre, alongside 18 other schools from the Bay. All the staff are very proud of the children for performing with confidence in front of a very large audience.
Pupils at Kings Ash Academy were also given the opportunity to take part in a writing competition provided by the Young Writers based in Cambridgeshire. The pupils had to write a mini saga, with a word limit of 100 words. Their sagas had to be based on time travelling. 60 pupils sent their work in and from these 54 were selected to be published in a book. We are very excited by this and can't wait to receive our copy of their book.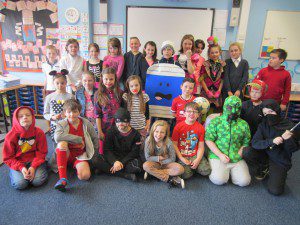 For 'World Book Day' On March 3rd we had a day dressing up to celebrate as our favourite book characters. All of the pupils joined in with such enthusiasm. We had everyone from Harry Potter to Red Riding Hood joining us for the day! The pupils spent some time on a range of book related activities. There were prizes and lots of House Points given for the most thoughtful costumes.
Zoey Stoyle