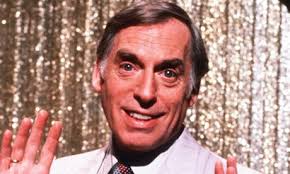 For several years in the mid-80s Torquay's Ilsham Marine Drive was home to Larry Grayson.
Larry (1923-1995) was born William White and was a stand-up comedy and game show host of the late 1970s and 1980s. He's best remembered for hosting the BBC's game show 'The Generation Game', and for his high camp humour which featured his catchphrases such as "Shut t
hat door!" and "What a gay day!".
Born to unmarried parents, he was adopted by a working-class coal mining family in Nuneaton. When he was eight he discovered that his mysterious Aunt Ethel was in fact his natural mother.
He left school at the age of 14 and worked professionally under the name of Billy Breen as a drag act on the comedy club circuit. For 30 years he toured the UK in male revues, drag shows and variety shows.
Following a hit run of guest spots on ATV variety shows in the 1970s, he was given his own show 'Shut That Door!' in 1975. He then moved in 1978 to the BBC to present 'The Generation Game' supported by folk singer Isla St Clair. Attracting audiences of over 18 million each week, the show ran until 1981. In this clip note the casual 1970s laughing-at-foreigners that wouldn't be acceptable today:

Larry was one of the firs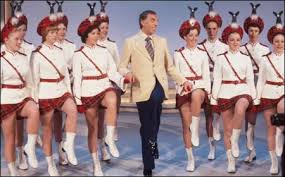 t television comedians to suggest being openly gay. Indeed, his early TV appearances had led to many complaints about his act being too risqué and he feared that he would never make it on TV.
His style of comedy was based on anecdotes. These were often around his fictitious friends which included Everard (say it slowly), Apricot Lil, Slack Alice and 'Pop it in Pete' the postman. Even in the more liberated present day the innuendoes can seem pretty blatant – this was prime-time family TV – but most went over the heads of younger members of his audience.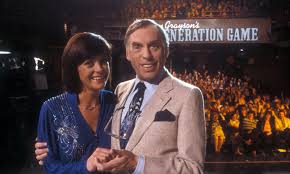 There's a bit of a debate here over whether Larry was a help or a hindrance to gay equality. On one hand, did he reinforce a camp stereotype and cause a thousand playground slurs, or did he bring an openly gay, charming and likable character into millions of homes? Remember, this was a time when the BBC officially claimed stars like Larry Grayson and John Inman were just "waiting for the right woman to come along" because no-one could be openly gay on family-time TV.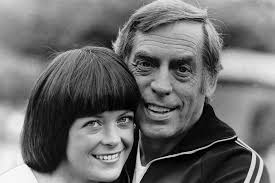 After 'The Generation Game' ended, Larry moved with Flo (his adoptive mother, who also happened to be his older sister) to Torquay, as part of his semi-retirement, but moved back to Nuneaton after just a couple of years.
Here's Larry in 'The Larry Grayson Show':

…