LEMONFEST has announced the line up for this year's event.
Lemomfest is a one-day music festival taking place in the heart of Devon at
Newton Abbot's Racecourse every summer, with live music and DJ's across six
stages.
Now moving into their seventh year, LEMONFEST has established itself as
South Devon's premier live music event.
This year's festival will be held on the 4th June and promises to be their best
year yet. With previous years welcoming the likes of BRIT award winner Ben
Howard, alternative pop rock trio The Subways and reggae greats Gentleman's Dub Club, 2016's impending first line up announcement is sure to have tickets flying out the door.
LEMONFEST is pleased to reveal the first wave of acts for 2016..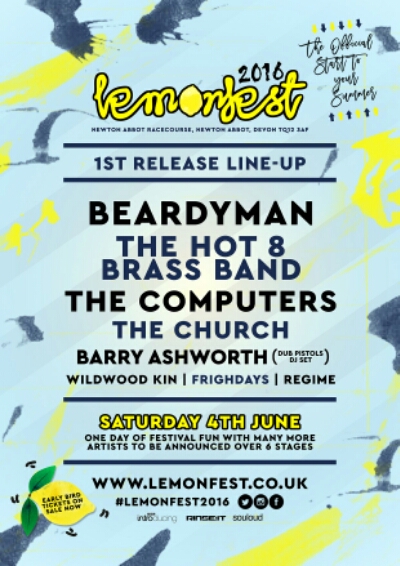 Here's what was said about last year's event:
"A temptingly cheap, but tasty one-dayer" – The Telegraph
"Quite simply it's run by the best people, attended by the best people.. and most
importantly has the best music!" – James Santer, BBC Introducing in Devon/BBC Radio Devon
"The whole festival needed an encore" – Music-news.com
"It was so much more than I'd imagined, right from the moment we arrived…" –
eFestivals
2016's festival will see more areas, bigger acts, and loads more fun in general.
Other acts confirmed for 2016 are, BARRY ASHWORTH (DUB PISTOLS), THE CHURCH, WILDWOOD KIN, FRIGHDAYS and REGIME.
Tickets for 2016 are on sale now and
are available via the festival's official website. (Early bird general admission
£20.00, early bird general admission & camping £30.00).
For more information go to:
www.lemonfest.co.uk
Or join Lemonfest on social media:
www.facebook.com/lemonfestmusicfestival