Here's another Torquay ghost story…
"I resent Mrs Langtry, she has no right to be intelligent, daring and independent, as well as lovely", Torquay resident George Bernard Shaw
Oscar Wilde commented, "I would rather have discovered Mrs. Langtry than to have discovered America. She is the most beautiful woman in the world". Theodore Roosevelt said of her, "She's so pretty she takes away a man's breath."
This was Lillie Langtry, born Emilie Charlotte Le Breton in Jersey in 1853. By 1881, Lillie had become an actress and starred in many plays. She later became the manager of London's Imperial Theatre and also manufactured claret at her 4,200 acre winery in California which she purchased in 1888 and sold in 1906.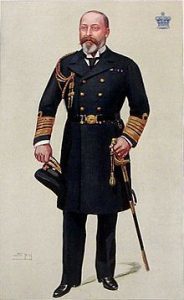 During her life Lillie was the subject of widespread public and media interest, largely due to her relationships with noblemen such as the Earl of Shrewsbury and Prince Louis of Battenberg. It's the most famous of her relationships that supposedly brings Lillie – and her ghost – to Torquay. This affair was with Edward, the Prince of Wales, later to become King Edward VII.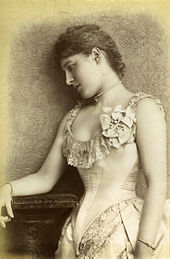 In 1874 Lillie was 22 when she married the affluent Irish landowner Edward Langtry. It's long been claimed that the couple then came to live in Torquay at her husband's villa Engadina in Park Hill Road. Yet, there doesn't seem to be a record of this and Lillie doesn't mention living in Torquay in her autobiography.
The second Lillie association with Torquay is through Edward, the Prince of Wales (pictured). Queen Victoria's 'Bertie' spent the 60 years between being born and waiting for his mother to die by drinking and philandering. To further his extracurricular interests, on May 24, 1877 he arranged to sit next to Lillie at a dinner party – her husband Edward was seated at the other end of the table. The Prince was already married to Princess Alexandra and had six children, yet Lillie became his semi-official mistress. Infatuated with the actress, Edward presented her to his mother, Queen Victoria.
The affair lasted from late 1877 to June 1880. While remaining friends their physical relationship ended when she became pregnant. The father was probably her old friend Arthur Jones with whom she went to Paris for the birth of the child, Jeanne Marie, in March 1881.
This is where the Torquay mythology begins. Edward, now the King, was said to have given Dunstone, a Warberries villa, to Lillie as a gift in 1901 – almost 20 years after their affair ended. It was alleged that Edward bought the house so that he could pay her visits when he was moored on his yacht in the Bay. Later known as the Audrey Court Hotel the Grade II house is now the Warberries Nursing Home (pictured below), "a perfect example of Victorian elegance situated in 1.25 acres with panoramic coastal views combined with beautiful grounds and flower gardens."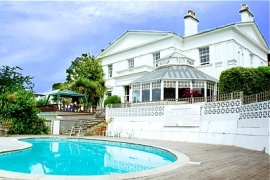 Historians, however, have found no evidence of this being actually true – just a rumour spread about by Torquay's inventive tourist guides. Though Edward was certainly a visitor to Torquay, again Lillie makes no mention of the house or of any Torquay connection in her 1925 memoirs, 'The Days I Knew'. The only circumstantial evidence is the slight story that when an application was made to demolish the house in 1974 a preservation order was placed on the building by the Department of the Environment. The solicitor acting for the owners guessed that there was some secret document which suggested that the house was somehow significant.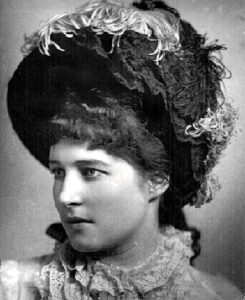 Anyway, by 1901 Lillie had moved on. In 1887 she became an American citizen, and divorced her husband. In 1899, she married the much younger Hugo Gerald de Bathe, and became a leading owner in the horse-racing world, before retiring to Monte Carlo. She died there in 1929, and was buried in the graveyard of St. Saviour's Church in Jersey – the church of which her father had been rector.
The ghost of Lillie, nevertheless, has long been said to walk around the Torquay building knocking on doors. Hotel guests have claimed to have seen a lady in a blue Edwardian dress on the stairs. This was assumed to be Lillie, waiting the return of her prince.
Notably, all the usual rules of supernatural infestation seem to have been broken in this instance. Far from being hopelessly in love with her royal paramour, Lilly also had dalliances with a range of other men. She also didn't end her life in Torquay – she died in Monaco and was buried in Jersey.
Can a particular ghost haunt more than one place? Lillie is supposed to be haunting a variety of settings. Her spirit crops up several times in London. The sixty five room Cadogan Hotel in Knightsbridge is one of the oldest and most famous hotels in London and is reputedly haunted by the actress. Also, during the 1960s Lillie was blamed for creating the disembodied voices that could sometimes be heard at the now demolished 103 Alexandra Road – once called Leighton House. It may be that any sighting of a Victorian female ghost was given the name of the most famous actress of them all.
Here's another possible reason for Lillie's reported appearances in the Warberries. It may be that the Torquay love nest story is another manifestation of the myth relating to Bournemouth's Langtry Manor – formerly the Red House.
The Red House was built in 1877 by women's rights campaigner and temperance activist Emily Langton Langton – so good they named her twice. In 1938 new owners converted it into the 'Manor Heath Hotel', and advertised it as having been built for Lillie by the Prince – note the parallels between Emily and Lillie's names. Predictably Lillie's ghost is part of the story and her fame is used to promote the business, "Lillie and Edward were the only residents at the hotel for many years, so it is perhaps fitting that Lillie is still often seen around the hotel by both guests and staff in the form of a grey shadow."
Yet, despite the hotel's claims, alongside local legend and even a Blue Plaque, no association between the celebrated lovers and the house exists. Expert Professor Jane Ridley further states in her 2012 biography of Edward VII that there is no evidence that the Prince had any connection with the Red House or ever went or stayed there. Note, however, the striking similarities between the Red House myth and the Dunstone/Audrey Court Hotel stories of Lillie and the Prince. Torquay folk didn't just invent ghost stories, we avidly imported them.
There is a 'Lillie Langtry Suite' in Torquay's Imperial Hotel but there doesn't seem to be any direct link. There is, however, a local legend that the Prince of Wales – also known as 'Dirty Bertie' and 'Edward the Caresser' – and the Jersey Lilly had their famous saucy argument in the grounds of The Imperial: "I've spent enough on you to build a battleship"; "And you've spent enough in me to float one". Yet, the same story is also told of Bournemouth's 'The Red House' which appears to be a similar fabrication. Notably, other elite hotels – such as The Grand Royal in Hyde Park – also feature 'Lillie Langtry Suites'.
Whether Lillie actually spent time in Torquay is then debateable. Her fame, however, lives on – in 'The Simpsons' episode 'Burns Heir' the theatre in which the auditions are held on Burns' estate is called the Lillie Langtry Theater.
You can join us on our social media pages, follow us on Facebook or Twitter and keep up to date with whats going on in South Devon.
Got a news story, blog or press release that you'd like to share or want to advertise with us? Contact us