A bird expert has travelled from South Devon to South Africa to help save an endangered African seabird. And within days of arriving, Living Coasts Senior Head Keeper Lois Rowell has found herself hand-rearing precious chicks.
Lois, an experienced bird keeper practiced in the delicate art of hand-rearing, is spending six weeks working with bank cormorants. She is helping SANCCOB, a leading marine conservation charity specialising in threatened seabirds such as the bank cormorant and African penguin. They are Living Coasts' long-term partner in the country.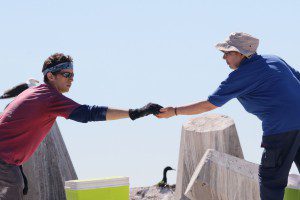 Lois travelled to Robben Island, famous as the place where Nelson Mandela was imprisoned, to collect bank cormorant eggs under license from the government. "We carried the eggs in a cool box with towels and a hot water bottle to keep them warm. We put them in a portable incubator while we waited to catch the ferry back to the mainland.
"They – and we – had quite a bumpy ride back to SANCCOB. The sea was rough and then there was the road journey as well. As soon as we got back I weighed the eggs and placed them in an incubator. We could tell that nine of the ten were definitely fertile. The tenth may be newly-laid or infertile – only time will tell."
Things moved on rapidly after that.
"Two have hatched – so now the difficult bit begins! The first chick seems to be doing OK, it's early days but we recorded a 2% weight gain in the first 24 hours, so it is going in the right direction.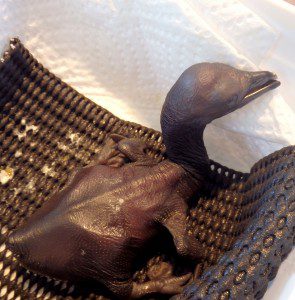 "The first two chicks are on liquidised pinkies (dead newborn mice bred for the purpose) with some hake being added soon for the older one. The next one will be on a diet of sardine, hake and harder – a local species of mullet."
The chicks are fed every three hours, from 6.00am to 9.00pm – six feeds in all. The first two are on a diet of liquidised pinkies and water warmed to body temperature and syringed into the mouth. "If you tap them gently around the beak and face it stimulates a feed response, they open their beaks and nod and the food is syringed into the throat and they swallow it. They are also quite vocal, they have a raspy quite harsh call which you can also hear while they are still in the egg hatching."
Living Coasts has helped pay for the construction and equipping of a special building for the breeding and rearing of bank cormorants. Lois is helping to develop hand rearing and husbandry techniques in order to increase the successful release of birds back in to the wild.
Clare Rugg is Operations Manager for Living Coasts, which is part of the Whitley Wildlife Conservation Trust: "We tried bringing eggs here to hatch and rear, and we might try that again. But we think a good use of limited resources is to fund work on the ground in South Africa, where the birds are and where the problem is."
The charity has joined forces with researchers at the University of Cape Town and with SANCCOB. SANCCOB rescues oiled African penguins and other threatened seabirds, covering Africa, the Indian Ocean region, Antarctica and the Sub-Antarctic. It also trains environmentalists, runs education programmes and is a leader in seabird disease research.
Bank cormorants are found in South Africa and Namibia. The world population is probably now around 4,000 birds. The species is classified as Endangered by the International Union for the Conservation of Nature.
Lois has been busy getting to know her temporary home and discussing diet options, rearing techniques and equipment for the bank cormorants. "SANCCOB has purchased a Grumbach incubator paid for by Living Coasts and has been donated some human incubators. These, which they also use for their penguin chicks, are bigger and have very good visibility and excellent temperature and humidity controls, so are well suited for the purpose." For more information go to www.livingcoasts.org.uk or ring 0844 474 3366.