A Torquay man has warned others after a lucky escape yesterday.
Keith Byron posted the images on Spotted Torquay to warn people of the dangers of not wearing a helmet.
Keith, one of Spotted's regular jokers had a serious message after coming off of his quad bike on Lower Warberry Road, Torquay. Keith sustained a head injury resulting in his head being stapled together.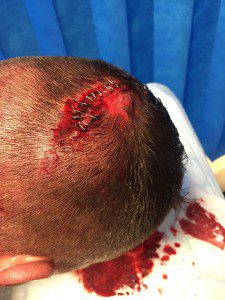 "When I came round there was a lady, 2 blokes and a police officer. I have no idea who they were but if they are reading this or someone knows these people, I want to pass on my sincere thanks, particularly to the lady that tried to stem the bleeding and bandage me up. Very much appreciated"
Keith says whilst he was lying on the floor, someone called an ambulance and was informed there were only 4 ambulances in Torbay and all were busy. Raising the question if there are enough ambulances in the area. He added his thanks to hospital staff who helped him after a friend, Ashley Sims took him to A&E.
We wish you a speedy recovery Keith and look forward to hearing more of your (terrible!) jokes soon.