In November 1997 an English writer discovered a long-forgotten 200-year old book in a palazzo in Italy. To her delight, she had found the original of 'Maurice, or the Fisher's Cot'. This was the only children's story ever penned by the famous author Mary Shelley. It was set in Torquay, a location familiar to Mary as she and her poet husband had visited the town in 1815.

Mary was a novelist, short story writer, dramatist, essayist, biographer, and travel writer. She also edited and promoted the works of her husband, the Romantic poet and philosopher Percy Bysshe Shelley  (pictured below) . In 1816, Mary and Percy famously spent a summer with Lord Byron, John William Polidori and Claire Clairmont in Geneva. It was here that Mary conceived the idea for her novel 'Frankenstein: or, The Modern Prometheus'.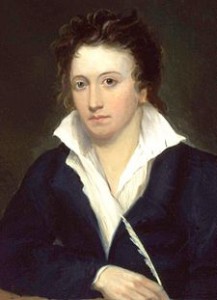 The year before the Shelleys had holidayed in Torquay. This visit appears to have left its mark, as Mary later wrote 'Maurice' and set the story near the town.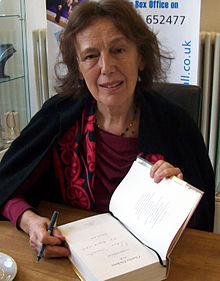 Claire Tomalin – biographer of Jane Austen and Shelley's mother, Mary Wollstonecraft – went to Italy in 2004 and describes how the manuscript was rediscovered in a trunk in the private archives of an Italian family (pictured above). She remembers her first site of the lost work which was sewn together with string: "We were greeted by Andrea and Cristina Dazzi, and offered coffee. Then the manuscript of 'Maurice' was brought out and laid in front of me on the table: an alarming moment because coffee and manuscripts must not occupy the same space."
Written two years after Frankenstein, 'Maurice, or the Fisher's Cot' consists of 39 closely written pages in Mary's handwriting. Having the same melancholy that features in all her works, it can be read as a product of Mary's personal family tragedies. Mary experienced the deaths of her three infant children, the suicides of her half-sister and of her husband's first wife, and the absence of Allegra, daughter of Percy's stepsister who was given up to the girl's father, the poet Byron.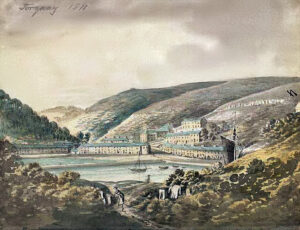 A morality tale for children, the novel was written in 1820 in Italy, where Mary had fled with her husband and their two small children. It was dedicated to Laurette Tighe, an 11-year-old Irish girl, the illegitimate daughter of Margaret, Countess Mountcashell, and an Anglo-Irish gentleman-adventurer, George Tighe.
An entry in Mary's journal for 10 August 1820' just before her 23rd birthday' reads: "Write a story for Laurette. Walk in the mountains … The weather is warm and delightful." Mary was aware that her reader was an English child who had never been 'home' and so the story is written plainly and contains scenes of the Bay's coast and customs. It even includes descriptions of the kinds of lichen, moss and damp-loving plants that grow here.
It's a sentimental morality tale about a boy who runs away and is adopted by an old fisherman and lives in a cottage – the "cot" of the subtitle – on the coast near Torquay.
A traveller arrives in Torquay where he sees a distressed young boy at a funeral procession. The traveller goes to a local inn, where he is told the story of the deceased Old Barnet. Old Barnet was a fisherman who had taken in a lost boy called Maurice – we're nice that way.
The traveller explains how he had a son, Henry. One day the son was taken. The traveller spent years searching for his son and, hearing the story, Maurice reveals himself to be the traveller's son. Henry was Maurice! Who didn't see that one coming? Overjoyed to be reunited, the traveller buys the Torquay cottage for Maurice who goes on to gain an education and travel widely. One day Maurice returns to Torquay to find that the cottage has disintegrated but he builds a new one for another poor fisherman's family.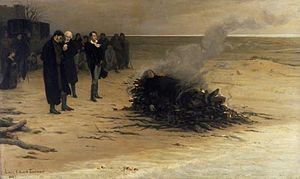 Mary, of course, wasn't alone when she visited Torquay. She was accompanied by her husband Percy Bysshe Shelley. A radical in his poetry as well as in his political and social views, Shelley didn't see much fame during his lifetime.
Recognition for his poetry, however, grew steadily following his death. This came on 8 July 1822, less than a month before his 30th birthday, when he drowned in a sudden storm on the Gulf of Spezia while returning from Livorno to Lerici in his sailing boat, the Don Juan. As befits a Romantic poet, Percy was cremated on the beach…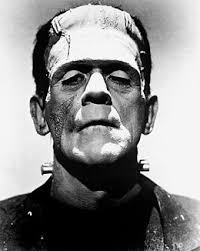 The 2017 movie 'Mary Shelley' focuses on that haunted summer of 1816 with the Shelleys and Byron at the Villa Diodati. Elle Fanning plays Mary: