A mother and daughter who are training together to be fully qualified nurses have volunteered to support patients during the pandemic.
Emma Scott and her daughter Pollyanna Halliwell, both Student Nurses with Torbay and South Devon NHS Foundation Trust, jumped at the chance to help out in the fight against COVID-19.
They found themselves on the frontline unexpectedly while on the final year of their nursing degrees with Plymouth University on their way to become Registered Nurses.
Pollyanna, who has a daughter aged six, is currently working on Ainslie Ward in Torbay Hospital and Emma is currently in Newton Abbot Minor Injuries Unit (MIU) (both run by the Trust) after the university agreed to place final year students in clinical setting to support the NHS in the current climate of global pandemic.
Not only are they training together but live together and support each other along with Emma's husband, son and grand-daughter.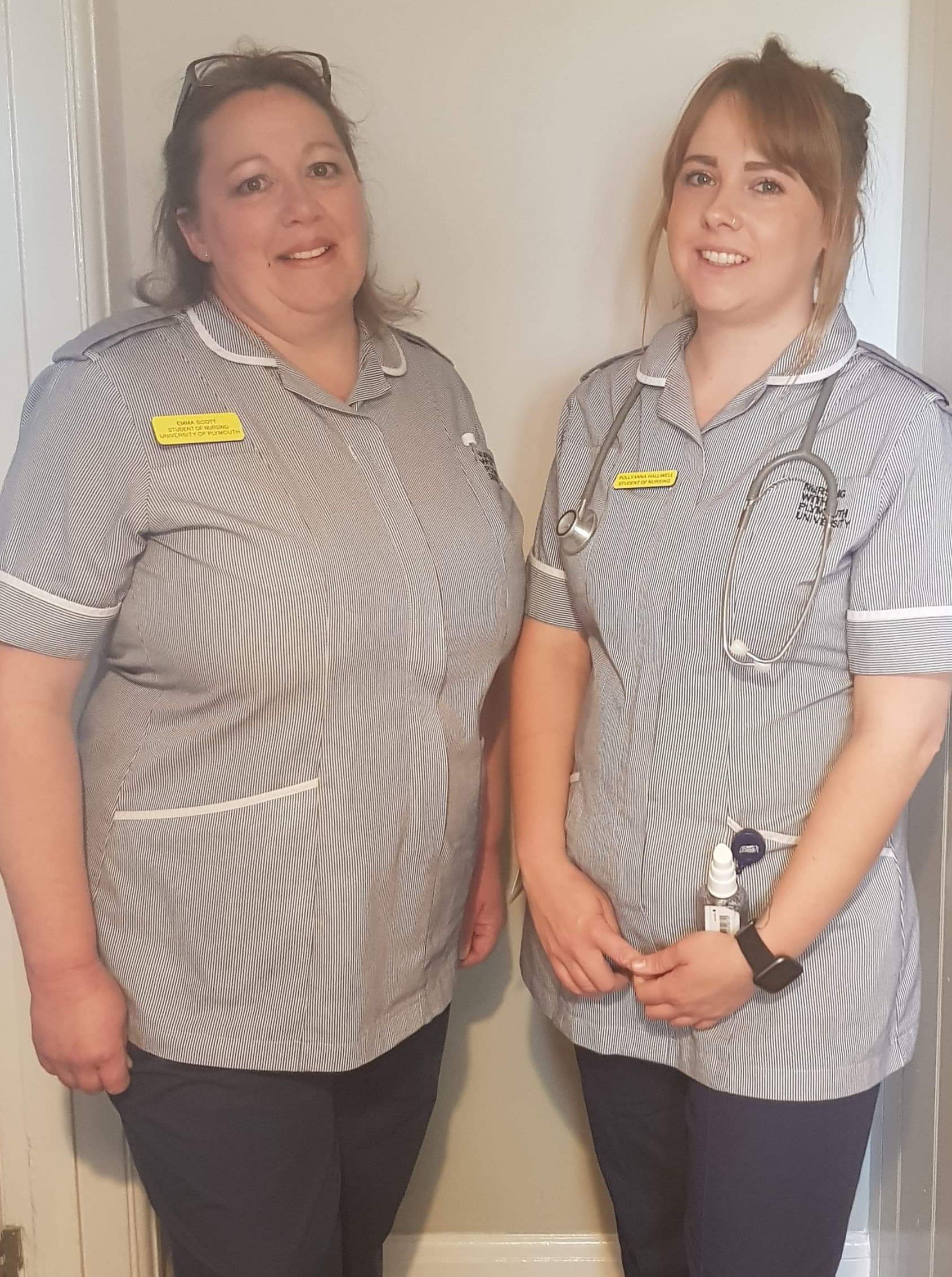 Emma and Pollyanna said: "When the call came in from the university asking for volunteer students to support the NHS during the pandemic there was no hesitation in our house – we were more than ready. We are now both placed within the Trust completing our training whilst supporting the NHS."
Emma has worked for the Trust for over 15 years in a variety of settings but prior to student life was working in the MIU at Newton Abbot Community hospital as a Health Care Assistant. She subsequently gained her Assistant Practitioners qualification, before joining the Trust's nursing apprenticeship scheme.
Emma joined the apprenticeship (enabling her to work for the Trust while training) without hesitation and was one of six successful applicants able to join the second year of the BSc Adult Nursing Degree. The degree is taught by Plymouth University at their new Exeter campus which resulted in Emma and her daughter and being in the same cohort.
Emma, who wants to continue to work in the MIU once she has finished her apprenticeship, said: "It has not only been a huge learning opportunity but to be able to embark on the journey with my daughter was amazing.
"Support for each other brought us closer with a better understanding of each other and how we manage change and stress.
"To go through the training together and complete a degree as mother and daughter. with over a 20-year age gap has shown strengths and weakness on both sides – I understand how the Trust runs and increased my clinical skills and knowledge. While Pollyanna has more recent study experience than me and is more confident with the academic side. We quickly both realised that we learn and write in different styles".
Emma encourages anyone to take an apprenticeship: "To have been given the opportunity of gaining my degree with the support of the Trust has been a great opportunity. Without it I would never have got this far. I cannot thank the Trust enough."
Emma and her husband have supported Pollyanna with childcare during her study time.
Pollyanna, who is currently enjoying orthopaedics, would like to continue once qualified. She previously worked in care homes after leaving school, beginning her 'love for caring'. She began her BSc Nursing degree after an access course at South Devon Collage. In 2017 she joined the first cohort of student nurses at Exeter School of Nursing Campus.
She said: "Doing my degree alongside being a mum has been challenging but also very rewarding. In September 2018 when I was going into the second year my mum also joined my cohort on the degree course. She has helped support me and advise me along the way. For us both to be on the journey of reaching our passion in life in becoming registered nurses is amazing and I couldn't imagine doing it without her."
You can join us on our social media pages, follow us on Facebook or Twitter and keep up to date with whats going on in South Devon.
Got a news story, blog or press release that you'd like to share or want to advertise with us? Contact us