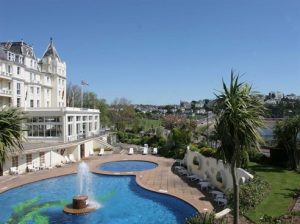 "I am very sorry for what I have done here, but this is the place. I had to be here to carry out the deed. The money for food is on the table. To the chef, the food was magnificent. Fit for the gods for a final meal. Thank you." Mr Patel's suicide note.
In September 1997 a man checked into room 131 of Torquay's four-star Grand Hotel calling himself Mr Patel. Aged around 35, he had no luggage, constantly wore sunglasses and paid the £67 for the room in cash. He ordered room service – a roast lamb dinner, along with a bottle of Frascati. He then ingested the contents of a black leather pouch containing cyanide – it was mixed with Coke in a coffee cup. It was the hotel's housekeeper who found Mr Patel's naked body curled up on the floor. His clothes were neatly folded on a chair, £94.12 was in separate piles of notes and coins on the table alongside a Ronson lighter, an empty wine glass and an ashtray filled with Benson & Hedges stubs.
A note in neat handwriting on the Hotel's pale blue notepaper thanked the chefs for his last meal, but contained no other explanation.
Then came the task of identifying Mr Patel. The usual channels – the Salvation Army, the Missing Persons' Register, other police forces, and public appeals – were soon exhausted. The mystery persisted until Coroner's Officer Robin Little and Guyan Fernando, a Home Office pathologist, discussed the case and specifically the unusual scars found on the body. Robin Little later said: "I told him about two transverse scars on each shoulder and he told me immediately, 'He's a Tamil Tiger'."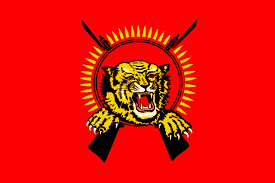 Dr Fernando is Sri Lankan, and he said that the scars were tribal markings. Mr Patel was apparently a Hindu, because he was not circumcised, and probably came from southern India. "When I told him he had died through cyanide, he told me, 'They always carry a cyanide pill around with them, no matter where they are. It is in case he gets caught. You'll never find out who he is'." This then led to the involvement of Special Branch, Interpol and the Sri Lankan and Indian embassies.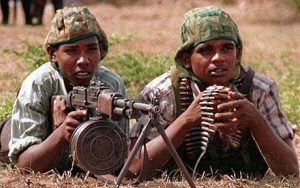 So the suggestion was that Mr Patel was a member of the Liberation Tigers of Tamil Eelam commonly known as the Tamil Tigers, a separatist organisation based in north eastern Sri Lanka. Founded in 1976 the Tigers (that's their flag and a couple of their fighters pictured above) demanded an independent state which led to a civil war which ran from 1983 until 2009, when the Tigers were eventually defeated. The conflict killed an estimated 80,000-100,000 people. The Tigers militia carried out many high-profile attacks, including assassinations. They were the only militant group to assassinate two world leaders: former Indian Prime Minister Rajiv Gandi in 1991 and Sri Lankan President Ranasinghe Premadasa in 1993. It was the Tigers that invented suicide belts and pioneered the use of women in suicide attacks in warfare. The Tigers were accordingly proscribed as a terrorist organisation by 32 countries, including the United States, the European Union and India.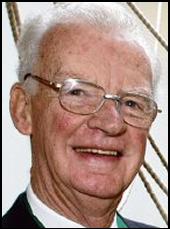 But why a suspected Tamil Tiger chose Torquay to kill himself remained a puzzle. And it clearly wasn't just by chance as the suicide seems to have been well planned by Mr Patel as he wrote in his farewell note, "…this is the place. I had to be here to carry out the deed."
The Bay's Coroner at the time, Hamish Turner (pictured above), called the mystery "an unsatisfactory state of affairs". Hamish had been our Coroner for 32 years and not a single body had remained unidentified during his impressive local career. He later said: "The intriguing thing is why he chose the Grand to carry out the deed. He had stayed at another hotel for a few nights but chose this one for the final act. One theory is that he knew about the Agatha Christie connection. I think she wrote a book called Sparkling Cyanide, and in some way he felt it was poetic. But it is very frustrating to have had this man on our hands for the past 12 months and we still do not know who he really is. In London, I am told, they get one or two of these a year, but never down here. We like to get our man."
Of course, the location of the suicide – the Grand Hotel where Agatha Christie spent her honeymoon – along with the method and the ongoing mystery attracted the interest of the national media. It also allowed journalists to wax lyrical about the incident. The Independent, for example, ran an article entitled, 'Death at the Grand: a tale straight out of Agatha Christie'. It began, "Seaside resorts can be melancholy places out of season, and Torquay on the 'English Riviera' is no exception. The boarded-up ice-cream stalls, the trinket shops and the faded chalk boards promising 'mystery tours round the bay' spread an air of gloom. And it is easy to imagine how this could spark the internal monologue of the depressive."
Putting the whole sad incident into perspective was Constable Richard Fletcher, "I get a little annoyed about the Agatha Christie angle, which people go on about, and all this business about it being an exciting mystery. But somewhere out there is a mother who is missing a son … and she'll never know why."
[do_widget id=text-36]
Return to our home page for more local news here.
You can join us on our social media pages, follow us on Facebook or Twitter and keep up to date with whats going on in South Devon. Got a news story, blog or press release that you'd like to share? Contact us