The Mushroom Shop is to reopen after a closure notice was served on Wednesday following complaints of Anti Social behaviour.
Following a hearing at Newton Abbot Court yesterday, the shop will reopen but will no longer sell New Psychoactive Substances (NPS's) also known as 'Legal highs'
Negotiations took place and the shop is to be closed (voluntarily) for 2 weeks and legal highs will no longer be sold.
Proprietor Mr Paris Newton has agreed to a number of further undertakings including full police access to the shops' CCTV equipment, plus to display prominent signage confirming Mushroom is no longer selling NPS's from the shop.
The shop will remain closed until 10th July.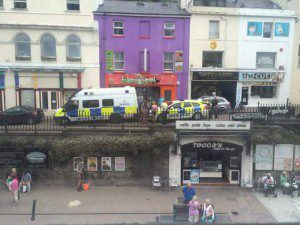 Torquay Inspector Louise Costin said: "The closure application followed the increase of serious nuisance and disorder directly linked to the sale of NPS's from the Mushroom Shop. This outcome is as a real success as it is a long term solution to preventing the sale of NPS's from this shop. There are now no shops in Torquay which sell NPS's."
PS Sarah Mills, Torbay Community Safety Sergeant stated after giving evidence in court: "We are very pleased with the result, this will prevent the long term stock and sale of NPS's from this shop with immediate effect.
"We are very grateful for the support of the businesses, Torbay Council Safer Communities, ASB Team and Trading Standards as well as other agencies who have provided evidence to support this application. We will continue to work hard to ensure that the quality of life improves for those clearly affected by the serious nuisance and disorder caused by the use of NPS's."