Today is National Child Sexual Exploitation (CSE) Awareness Day.
CSE involves young people and children being 'groomed' and sexually exploited. It can take many forms, such as through an apparently 'consensual' relationship with an older person, or a young person having sex in return for attention, gifts, cigarettes and/or alcohol.  It can occur via the use of technology, for example a child being persuaded to post inappropriate images onto the internet.
On average, it takes seven years for children to disclose sexual abuse because they have no-one they trust to turn to, no-one listens to them or no-one notices the warning signs.
Devon and Cornwall Police is working to inform and educate people around this form of child abuse and encourage victims to come forward and report abuse.
Frontline officers, support agencies, teachers and carers, are being trained to spot warning signs of grooming and exploitation.
Detective Superintendent, Paul Northcott,  of Devon and Cornwall Police said: 'Protecting victims of CSE can be particularly difficult as many do not see themselves as victims.  Others can be too scared to come forward because of the power their abusers exert over them.  We are encouraging the public to look out for possible victims and help us to ensure they receive the help and support they need.'
The National Working Group Network has instigated a #helpinghands campaign as part of national Child Sexual Exploitation (CSE) Awareness Day.  The campaign aims to encourage people in all walks of life to speak out against CSE by writing a message of support on their palm and posting a photo on social media under the #helpinghands hashtag.
Devon and Cornwall Police Chief Constable, Shaun Sawyer has made his own palm pledge with the message 'Speak out against CSE' in support of the campaign.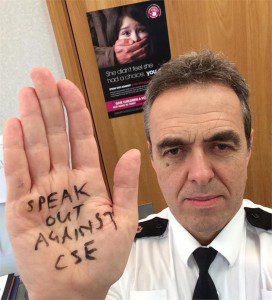 He said: "This campaign has my fullest support and comes at a time when policing must, more than ever, prioritise resources to issues of vulnerability; working alongside our partners to combat child sexual exploitation, wider exploitation and harm caused by criminals."
Tony Hogg, Police and Crime Commissioner has also made a palm pledge to lend his support.  He said:, 'Raising awareness around child sexual exploitation is of the highest importance to me.  We need to ensure that both the public and support services are educated around spotting the warning signs of this terrible form of abuse and that victims are encouraged to come forward.
'I am giving my full support to this both this initiative and in ensuring maximum effectiveness in policing this area going forward.'
As part of the day of action, there will be pop-up stands in Torbay, Plymouth and Exeter for the public to visit for help, information and to make their own palm pledges on the day.  The Torbay stand will be in Union Square between 12 and 2pm, the Exeter stand will be at the Exeter Central Library, in Castle Street from 12 to 2pm and the Plymouth stand will be in Place de Brest, Armada Way from 9am to 5pm.
Anyone wishing to support the campaign can find further information at: www.stop-cse.org
For further information and advice about CSE, including how to spot the warning signs, how to get help and how to report it visit: http://bit.ly/1wkuzDG
For help contact:
NSPCC at: http://www.nspcc.org.uk or telephone: 0808 800 5000
Barnado's at:  http://www.nspcc.org.uk