Local business Apex Laser Ltd have taken the plunge and opened their very own Craft Store in Torquay selling to trade and to the general public.
The new PixieBitz shop offers laser cut wooden and acrylic craft items as well as a wide range of other craft supplies and tools. Ace Harrison, owner of Apex Laser Ltd and now Pixiebitz said "We manufacture a large selection of craft shapes and products via Apex Laser Ltd and have been doing so for around 3 years now. The natural progression to take us to the next level was to open our own shop selling not just Apex items but other branded products to the local crafting community."

Located at Barton Business Park, the shop opened its doors for the first time on Saturday 26th September and welcomed customers from all over the bay. Ace said "Opening day was a fantastic experience; we had a lot of new as well as old customers walk through the doors. The response to the shop so far has been overwhelming. I think the free bubbly was a big help to. Jeanette, my partner is the one in charge of the shop and together we plan on making this the number one craft shop in the area with a possibility of opening more around South Devon"
Pixiebitz is a trade craft centre but it also welcomes the general public through its doors. The shop is also a unique craft retailer as it manufactures a large selection of its own products via Apex Laser Ltd so a high percentage of what they sell you cannot get anywhere else in the UK. The shop sells laser cut wooden shapes, plaques, signs, embellishments, paints, ribbons, tools, stencils and much more.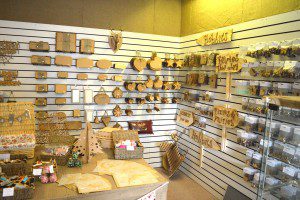 Ace said "We have new products being added all the time all with our own design team creating the next big craft product. The shop will evolve and change with the seasons, currently we have a lot of Christmas items for sale and after the Christmas period is over we will be looking at Valentine's day products so there will always be something new to keep people coming back"
You can visit their website and view stock at www.apexlasercraft.co.uk – The home of Pixiebitz