Torbay and South Devon NHS Foundation Trust have rolled out an innovative new care pathway in Torbay Hospital's Emergency Department.   This 'Rapid Assessment and Discharge Service' (RADS) aims to ensure that older people who may be managing a number of chronic conditions are quickly and thoroughly assessed, with all their needs identified and onward care plans put in place, and are not admitted unnecessarily. Many of these 'complex' patients may also be coping with dementia, making the hospital environment especially difficult for them.
The pathway involves the person being first seen by a doctor, who then streams them to the RADS team, unless they are acutely unwell and need to be admitted.  The RADS team are made up of senior nurses, therapists and discharge co-ordinators.  Together they conduct a holistic assessment of the person, taking into account their physical, social and mental needs, and refer and arrange for the person's onward care either at home or in a community setting.  They are able to make decisions about the person's safe discharge back home, or if this is not possible, they explore the next best alternative.  This could be any number of options, made possible by the Trust's investment in community services, including: arranging night sitters; a visit from the Re-ablement or Rapid Response Team to provide short-term support; a programme of intermediate care; a temporary care home placement; admission to a community hospital or perhaps a visit from a specialist team to administer treatments that normally require a hospital stay, such as intra-venous antibiotics.
Dawn Thomas, Clinical Nursing Lead in the RADS team says: "My role as the Clinical Lead Manager for this new pathway is one I feel privileged to be in.  The feedback so far is one of gratitude for getting people seen quickly and enabling them to go home safely.
Most importantly, only those patients who a doctor assesses to be acutely ill and in need of hospital treatment will be admitted; where a patient can be discharged back home or into a community setting, with the right support in place where needed, then this is the option taken.
The below stories illustrate examples of where patients were able to be discharged back home, avoiding a hospital stay, and also include an example of where a hospital stay was required.
Liz Davenport, Deputy Chief Executive and Chief Operating Officer of the Trust: "Introducing our RADS team is the fruition of hard work by our clinical teams and managers.  We have tested and refined a care pathway that I am confident meets the varying needs of many of our local older people who come to our Emergency Department in Torbay Hospital.   I am very grateful to all the staff involved who have worked to make this happen.
"The key thing about the RADS team is that they are wholly focussed on asking: 'How can we support this person to be able to be at home, what services can we provide that would enable this?'  In a busy Emergency Department the doctors and nursing staff are focussed on caring for patients who are acutely ill, often critically so, and therefore when they have an older patient who we consider to have 'complex needs' they tend to automatically admit them as a precautionary measure – and yet we know, hospital is not the safest, best environment for such a person to be in – unless they are acutely ill, of course.  The RADS team offer the holistic assessment of a person's needs, and have the knowledge of all the community services available so as to make an informed decision for the person's onward care.  This is a major step forward in our health and care planning for the area and I am very pleased to have the RADS team in place as a permanent measure going forward.
Pamela had a nasty fall while in her garden, injuring her head and grazing her knee.  Living alone, Pamela called 999 and subsequently an ambulance brought her to our Emergency Department, where she was seen by a doctor.  After a few diagnostic tests and a further review, the doctor considered Pamela to be medically fit, but referred her to the RADS team so that they could explore any needs she may have in order to be discharged home safely.  The RADS team learned that Pamela has no help at home, that she is fiercely independent with a rich social life – and wanted to remain safe. The therapy team spoke to her and assessed her, and eventually were happy to discharge her home with advice, so as to mitigate the risk of her falling again.  They then arranged hospital transport for her, and Pamela was able to go home. Without this further assessment by the RADS team, it is likely that Pamela would have been admitted overnight, for fear of Pamela falling again.
Mary was brought in to Torbay Hospital's Emergency Department in an ambulance after she told her daily carer she was feeling unwell.  Mary lives alone but in addition to her daily carer who helps with her personal care, she has a neighbour who calls in throughout the day to check if she needs anything.  This kind neighbour came to the hospital and met Mary in the Emergency Department, where she was seen by a doctor who diagnosed a chest infection which needed treating with intra-venous antibiotics.  Normally, in the busy Emergency Department environment the doctor would have admitted Mary in order for her to receive this treatment; but the RADS team were able to immediately assist the doctor and organise for a specialist team to administer Mary with intra-venous antibiotics at home.  As a result, Mary avoided a hospital admission which would have lasted at least three days – she was glad to be able to go home.
The specialist team are the Medical Admissions and Avoidance Team (MAAT), a team of nurses delivering care to people in their normal place of residence which would normally require a hospital stay. This can include treatments for infection such as intravenous fluids or antibiotics, along with management anticoagulation for pulmonary embolus, deep vein thrombosis, atrial-fibulation and pre-operative care.
Jack, pictured with a RADS nurse, had a fall at home where he lives with his family, resulting in a head injury and him being very unsteady.  His daughter brought him in to Torbay Hospital's Emergency Department where a doctor did some tests and asked the RADS team to assess him while they waited for the test results.  Jack was seen by some therapists to assess his mobility and what needs he may have if discharged home; they decided that with support available from his family, he did not need any help at home.  When the test results came back, Jack was found to be anaemic and needed treatment, and so he was admitted to hospital for three days. The information gathered by the RADS team when they undertook Jack's mobility assessment was subsequently used when it came for time to discharge him back home.
Joy, pictured with senior RADS nurse Dawn Thomas, had been out shopping when she became increasingly short of breath.  She drove herself into Torbay Hospital's Emergency Department because she was feeling very anxious about her condition – she had started to notice she was not coping as well as she wanted, and she was worried about her independence.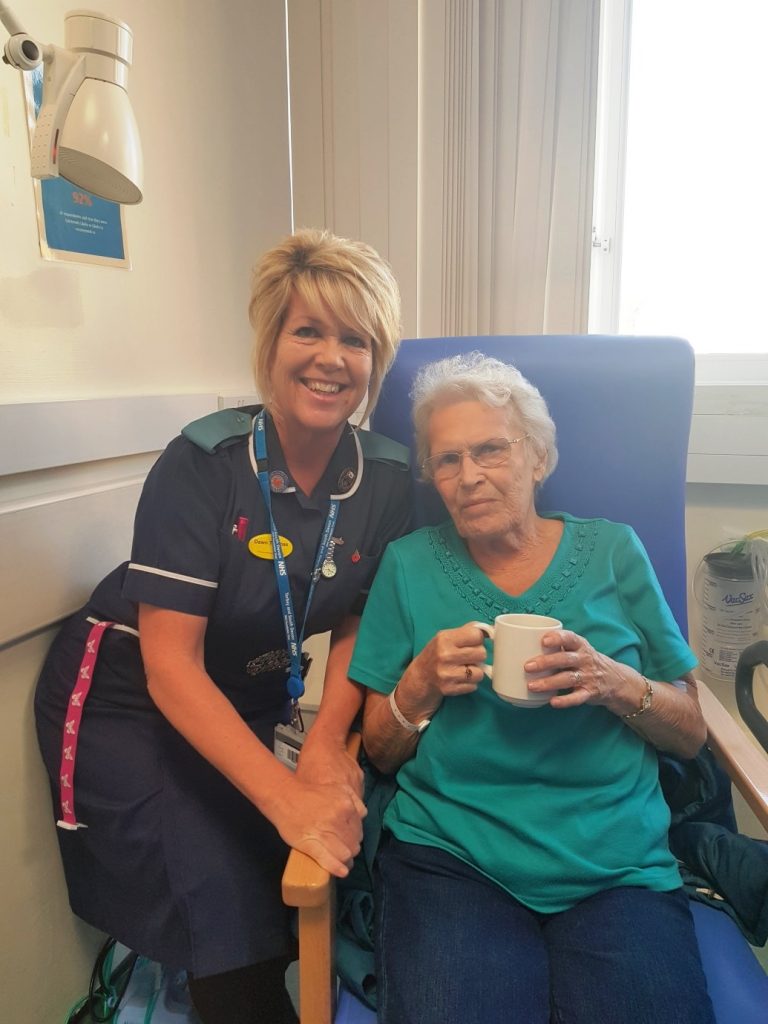 After examining Joy, a doctor ordered X-rays and blood tests, and prescribed medication to help with her symptoms.  All the results showed that Joy was medically fit for discharge home, to be followed up with her GP.  The RADS team then gave Joy a thorough assessment: they talked with her about any personal care needs she had, and an occupational therapist and a physiotherapist checked her mobility, and concluded she was safe for discharge home.  The RADS team referred her to the Torbay Hospital Outreach Respiratory Team (THORT) who will visit her at home, and Joy can contact them at any time.
Return to our home page for more local news here.
You can join us on our social media pages, follow us on Facebook or Twitter and keep up to date with whats going on in South Devon. Got a news story, blog or press release that you'd like to share? Contact us