A successful pilot project with Physiotherapists in Teignmouth and Dawlish to reduce the number of people having hip and knee surgery was rolled out permanently across Torbay and South Devon last month.
People right across the area will now benefit from a reduction in waiting times and more help to self-manage, along with treatment in the community and improved access to surgery when it is needed urgently.
From October all patients with non-urgent cases of hip and knee pain have been asked to self-refer directly to physiotherapy. By asking patients to refer to physiotherapy instead having to go the GP or wait for a referral to orthopaedics at Torbay Hospital, patients can look try a wider range of alternative treatments first, often avoiding surgery altogether.
Physiotherapists look at every other possible alternative to surgery to help a patient. Treatment may include physical activity, weight loss and pain management techniques.  Since the pilot began in March, only 12 per cent of patients have needed a referral for further investigation of the hip or knee pain. Patients who require treatment that is more complex are referred within two weeks to an specialist physiotherapist for further investigation and possible referral for surgery. This means that patients needing urgent and more complex treatment are seen quickly.
Sue Bartram from Teignmouth opted for rehabilitation rather than surgery to overcome her pain and mobility issues caused by a worn-out knee joint. "I've always had problems with my knee and in my early forties was told I would probably need a knee replacement by the time I was fifty. I passed that milestone several years ago and had been managing quite well. However, recently the pain had become unbearable. I was referred to Torbay Hospital thinking that surgery would be the only answer.
"I was really pleased to be offered the choice to try physiotherapy to improve my condition another way. I was seen quickly and after talking through what I wanted to achieve, the physiotherapist gave me the confidence that I could do this. I'm half-way through my sessions and already I am much better – I'm pain free and my mobility has really improved. My friends and family have noticed that I'm able to walk easier. It's great that I have been able to attend my local community hospital for the physio sessions – it's convenient and flexible as I'm able to fit the sessions around what suits me. The service has been fantastic. Rehab is a life-long commitment and once I have finished my physio sessions I will continue at my local gym so I can keep up what I've learnt and improve my overall health and fitness too."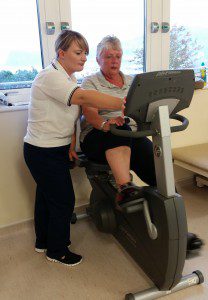 Frances Hunt, Clinical Manager for Physiotherapy at Torbay and South Devon NHS Foundation Trust said: "We have seen some really positive results for patients as a result of the pilot and we are delighted to be rolling this way of working out four months earlier than planned due to its success.
"This is not about stopping surgery for patients who need it, where it is clear that this best option for the patient then they are referred quickly, but we are really pleased to see that the numbers of patients having to undergo an operation is now much lower. By trying to find the right solution or treatment first, many patients have seen a dramatic difference to their mobility and daily functioning, often avoiding surgery altogether.
"Managing hip and knee pain can sometimes be part of a wider problem and by working together with patients in a more holistic way with can equip them with the tools they need to make a positive change and minimise any symptoms."
This programme is part of a wider piece of work to create and develop a new model of care in Torbay and South Devon. On 1 October a new organisation was formed bringing together the running of community NHS services, adult social care services and Torbay Hospital. The aim is to join more services together to make them easier to use and ensure wellbeing is at the heart of the system. It also wants to help more people to look after themselves better and deliver as many services as locally as possible.
Dr Alex Rowe, Clinical Lead for Planned Care at South Devon and Torbay Clinical Commissioning Group, said:  "As a clinical commissioning group, it is our role to ensure there are services in place to meet the needs of our local community and deliver the best possible care, as well as evolving to meet the ever-changing demand.
"We recognise that where possible, people want to avoid hospital and the risks that can be associated with surgery. By reviewing parts of our health and care system and looking at ways in which we can do things differently, such as referring to specialist services like physiotherapy, we are able to redesign services to better meet local needs."
Anyone suffering with hip and knee pain can be referred to physiotherapy via their GP or you can self-refer, by visiting www.torbayandsouthdevon.nhs.uk/physiopkb or if you live in Torquay, Paignton or Brixham calling 0300 456 9987 (local rate). If you live in Ashburton, Bovey Tracey, Chillington, Dartmouth, Dawlish, Ipplepen, Kingskerswell, Newton Abbot, Teignmouth, Totnes or surrounding areas, please call 01626 883765 (local rate). Appointments are given within 72 hours.