A new female cheetah has arrived at Paignton Zoo. Jahzara has come from Beekse Bergen Safari Park, in the Netherlands, where she was born on 7th December 2013.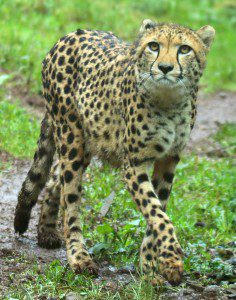 Paignton Zoo is now home to three cheetah: two year old Jahzara joins male Kasai, who is 11 and female Isantya, who is 4. Cheetah live on average between 8 and 12 years in zoo collections.
Jahzara has already met Kasai. Senior Head Keeper of Mammals Matt Webb said: "We are not expecting wonders unless they instantly take to each other and his presence stimulates her to come into season. She is still a bit young."
Breeding cheetah is notoriously difficult. Zoos across Europe work together, swopping animals, pairing them in different combinations and placing them in different enclosures in the hope of stimulating them to breed.
Paignton Zoo Curator of Mammals Neil Bemment explained: "It's possible that Isantya will go to Munster Zoo in the spring if Kasai shows no interest in her, or another male may be allocated to Paignton Zoo by the European Endangered species Programme. Jahzara is young and only just sexually mature, so she has time on her side."
The cheetah (Acinonyx jubatus) is listed as Vulnerable by the IUCN. Threats include the loss of habitat and the decline of prey species; conflict with people; the illegal pet trade; competition with other carnivores; and a gene pool with very low variability.
Cheetahs can run at up to 120 km/h (75 mph), faster than any other land animal.
Paignton Zoo Environmental Park is a registered charity. For more information go to www.paigntonzoo.org.uk or ring 01803 697500.