The next stage of roadworks on Brixham Road at Paignton to increase traffic flows because of the Inglewood development is due to start in October.
The first part is a five-week programme of works at the A3022/A379 Windy Corner junction carried out by Openreach.
This scheme starts on Monday, 2 October 2023, to rebuild and lower a communications equipment chamber in the road ahead of major works next year.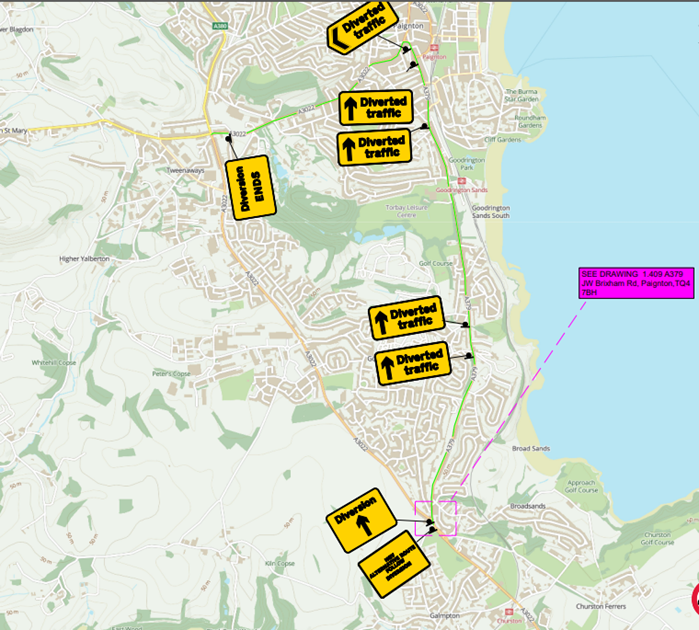 Two weeks later, on Monday, 16 October, 2023, work will start on Brixham Road at the junction with Long Road and Goodrington Road.
This scheme involves widening the Brixham Road northbound carriageway and the westbound Goodrington Road traffic lane to increase capacity and flows through the junction.
Subject to weather, these works are expected to be finished at the end of January 2024.
Traffic management for the schemes is likely to cause delays especially at busy times and motorists are advised to plan extra time for their journeys.
It is important to note that there will be no road closure at any time and Brixham remains very much open for business as usual.
The works will stop over the Christmas period and traffic management will be lifted to allow normal traffic flows.
We know there is never a good time for roadworks, and we have worked with everyone involved to minimise disruption while the works are carried out.
The scheme at Long Road Road and Goodrington Road was originally scheduled to start in September. The new date has been agreed after discussions with stakeholders including South Devon College and to avoid a clash with another scheme in the area.
The works are the latest in the programme of improvements to the highways network because of the new Inglewood housing development which was approved by the Planning Inspectorate in April 2021.
More details and updates can be seen on the Torbay Council website at Inglewood and Brixham Road Updates – Torbay Council.
Windy Corner:
There are two elements to this project. The first (Phase 2b) is to rebuild and lower an Openreach telecoms chamber in the road to allow highways works in the future (Phase 3).
The Phase 3 works will widen the lanes to create two lanes southbound along the Dartmouth Road to improve traffic flows through the junction. This phase, due to last 14 weeks, is now planned to start in mid-September 2024.
The Phase 2b Openreach enabling works will start on Monday, 2 October 2023, for an estimated five weeks, and the existing traffic lights will stay in use.
The northbound left-hand filter lane leading to Brixham Road will be temporarily closed throughout the construction period.
This closure may result in reduced traffic flow for northbound vehicles turning into Brixham Road, but it will not impact any other lanes or routes.
The traffic lights will be adjusted to improve traffic flow at the junction.
HGVs will be encouraged to continue north rather than turn left to Brixham Road and connect via the Totnes Road where possible to speed up traffic through Windy Corner.
Openreach are considering extended working hours on weekdays until 7pm and potential weekend work to accelerate progress and minimise disruption.
However, they are fully aware of the concerns of residents and are committed to limiting noise outside of regular working hours whenever it's feasible to do so.
Long Road/Goodrington Road:
These works will be done under traffic management. They will be carried out by contractor Roadform Civil Engineering Co Ltd on behalf of Persimmon Homes.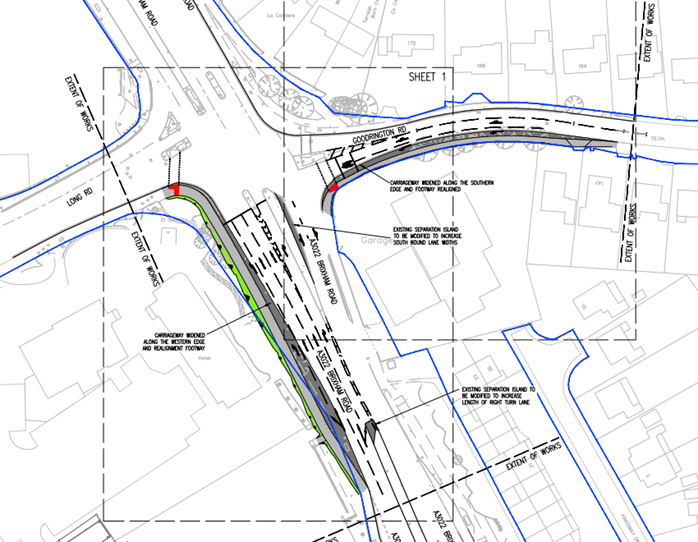 The works involve widening the Brixham Road northbound carriageway and the westbound Goodrington Road traffic lane to increase capacity and flows through the junction.
The works will start on Monday, 16 October 2023. They are due to be completed at the end of January 2024, subject to weather.
Traffic management will be needed as lanes will be temporarily narrowed and at times closed as the work progresses. As a result, traffic flow will be slower while this takes place.
Over the Christmas period, the works will stop, and traffic management will be suspended to improve traffic flows.
The first part of the project will see lanes closed for drainage work and widening of the northbound carriageway.
Typically, two northbound lanes will be open for traffic. However, for around four weeks of service diversion and drainage work, only one northbound lane will be available.
This will result in an extension of the existing single lane from Windy Corner to this junction.
The contractor will need to work on the highway and keep traffic management in place during the October half-term as they will be resequencing the traffic lights.
After the road widening is finished, they will make alterations to the junction keeping two northbound lanes in use.
The works at Goodrington Road are due to start in January 2024 lasting around four weeks.
This will require a small change to the Alan Kerr boundary to maintain security during the works.
One lane will be shut at this junction and four-way temporary lights will be in use to allow access to and from Goodrington Road.
The contractor aims to work some evenings and Saturdays to speed up the programme and take account of any impact of bad weather.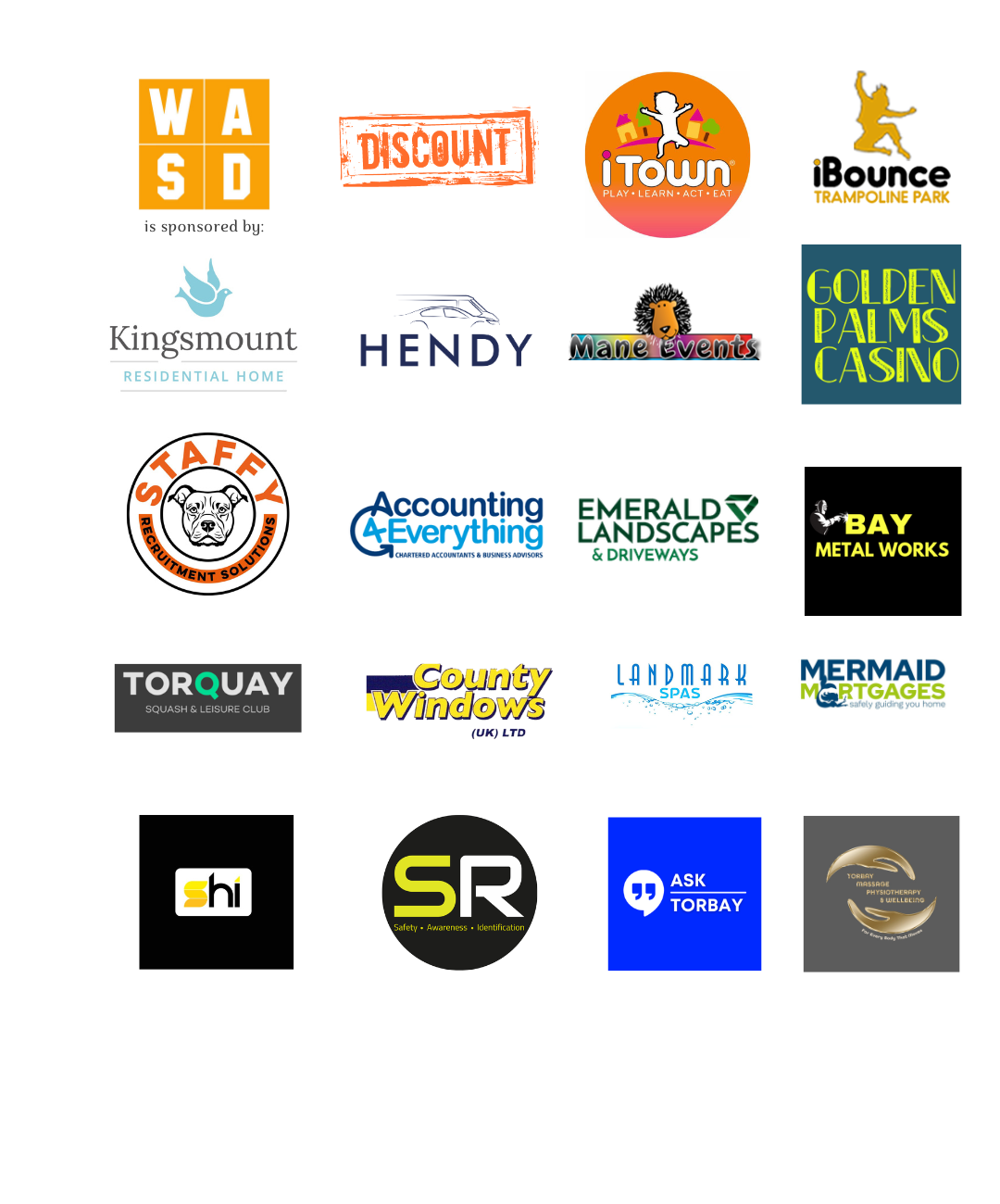 You can join us on our social media pages, follow us on Facebook or Twitter and keep up to date with whats going on in South Devon.
Got a news story, blog or press release that you'd like to share or want to advertise with us? Contact us