Occombe Cider Festival was back yesterday for its second year.
Fortunately the weather held out and the rain didn't make an appearance. We went along for a few ciders and took some photos (Before the cider kicked in and holding the camera became difficult!)
After last years amazing atmosphere, we wondered if it could be matched. It didn't disappoint. A friendly, happy crowd who had come to relax, drink and dance. Once again, a well organised festival with the security and police present but fortunately not too busy.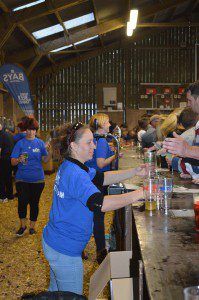 Armed with a menu, we made our way through the list of ciders (It would be rude not to, right?) This year, you could also enjoy a glass of Prosecco which seemed to be a welcomed addition, with lots of people enjoying a glass.
Music came from Paul Henshaw, Peter Crawford Trio, New Daze, Sara Yeo band and Sound of the Sirens.
Headlining the night was the hugely popular Coco and the Butterfields, a 'Fip Fok' (a genre combining Folk, Pop and Hip Hop) band from Kent. In 2012, CoCo and the Butterfields were crowned the overall winners of UK Live and Unsigned from amongst 40,000 competitors – and last night they showed why.
Here they are with the video for their song 'Warriors'
We headed back on the bus to Torquay, it was a pleasant journey with a nice bunch of people.
Back in Torquay, we headed for (more) food before heading back home. There were probably a few sore heads this morning!
Hello to everyone who we met, thanks for making it a great night.
Going out and meeting everyone is the best part of our job.
Thanks to Occombe festivals for putting on a great event. We hope the Cider festival returns next year.
You can find out more about Occombe farm and events here there here: www.occombe.org.uk