Torbay Council's sustainable travel team, Travel Torbay, are launching a new initiative with local businesses to encourage their staff to leave the car at home and cycle to work instead. 
This new initiative, which is called Bikes for Business, is offering local companies the opportunity to obtain free reconditioned bikes that can be passed onto staff to increase sustainable travel to and from their workplace. In return, these businesses are being encouraged to work alongside Travel Torbay to develop or amend their organisations Travel Plan. 
The first local business to sign up to this scheme is Living Coasts in Torquay. After reviewing their staff travel plan with Travel Torbay they received 12 reconditioned bikes for their staff.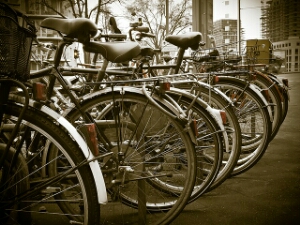 Executive Lead for Strategic Transport, Councillor Mark King, said: "This initiative is a great innovative way for our local businesses and their staff to be given the opportunity to get involved with cycling to and from work, and to support sustainable travel by developing their own travel plans. We are aware that the outlay by businesses to help their staff convert may also be holding them back, but we can also help in sourcing the right equipment that is needed to support these changes for staff. 
"I would urge any business that would like to explore sustainable travel, or would like to update their current plans, to get in contact with the Travel Torbay team. Together we can help show staff the benefits that cycling can bring to people's day to day lives. 
Living Coasts Operations Manager, Clare Rugg, said: "This is a really good, environmentally friendly initiative, which fits with our ethos and our work around reducing everyone's carbon footprint. Many of our staff live close to Living Coasts and as we have very limited parking facilities this project is ideally suited for us. We are looking forward to passing on the positives that cycling can bring through this initiative." 
The bikes that are being provided for this scheme are through the Channings Wood Prison's reconditioned bike scheme. 
Travel Torbay are also offering employees from the companies who sign up to the Bikes for businesses initiative the chance to participate in free adult cycling training sessions for all abilities. Training will be given by a qualified instructor. These can be held at the individual workplace or at Torbay Council's Velopark. 
If your business or organisation would like to get involved in this new initiative, please contact the Travel Torbay team by emailing: travel@torbay.gov.uk. 
For more information on the free adult cycling training sessions please visit: www.torbay.gov.uk/adultcycletraining.htm or contact highways@torbay.gov.uk 
For more community news and info, join us on Facebook: We Are South Devon or Twitter: @wearesouthdevon