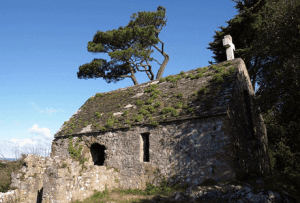 Torbay's many fine churches show how important the Christian faith was to local people. Yet there was a time before Christianity, a pagan Bay, and the debate continues over whether pagan beliefs ever fully went away. Development has mostly wiped away archaeological evidence of our distant past. Nevertheless, traces remain of the pre-Christian religions and magic which was practiced by the small rural communities that came together to become Brixham, Paignton and Torquay.
Our belief in the supernatural goes back to our very beginnings. Kent's Cavern and Brixham's Windmill Hill cave were occupied by Palaeolithic hunter gatherers from as far back as 450,000 BC. Across Europe cave paintings and ceremonial burials indicate that our ancestors had a belief in a life after death.
Ancient peoples in the Bay put a great deal of effort into burying their dead. Constructed sometime between 3400-2400BC there is a chambered tomb at Broadsands and a bowl barrow on Beacon Hill near Marldon. Other evidence of occupation can be found on the Churston limestone plateau, in the late Bronze Age/early Iron Age field system (1200-700BC) on the cliff tops at Babbacombe's Walls Hill and in earthworks at Warberry Hill, Great Hill and Gallows Gate.
These are the settlements and religious sites of the Celtic Dumnonii people. There are also enclosed hilltop sites at Milber Down and Berry Head. These were originally thought to be forts, yet such earthworks are often too large to be defended or in places that were exposed to the elements. Consequently, they are now being seen as places where religious rituals were carried out.
The priests of the Dumnonii may have been the enigmatic Druids. Our ancestors also practiced animal sacrifice. We know that the pre-Roman British honoured a large number of gods and goddesses. These were often associated with particular places so sites across Torbay probably had their own deities.
The Dumnonii outlasted the Roman period and continued until the seventh century. By then they were largely Christians. Evidence of the conversion of the Bay's scattered settlements may be seen in the name of Preston, 'preosta tun' the priest's farm – possibly a mission station.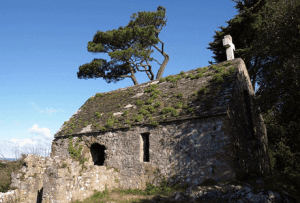 Other hints remain of a time when the Dumnonii were pagans. For example, the recently renovated St Michaels Chapel opposite Torre Station may have been built on an older place of pre-Christian significance. The Archangel Michael was the field commander of the Army of God in the Books of Daniel, Jude and Revelation and led God's armies against Satan's forces during his uprising. Accordingly, Torre's early Christians could have acquired an original pagan site for their new religion. Also, across the valley and the Teignmouth Road is Daison Rock. Intriguingly, it's been suggested that the word Daison derives from the Old English daegsan meaning 'a sacrificial stone'.
By the eighth century waves of Saxon invasions seem to have displaced the Dumnonii. Yet, While Paignton, St. Marychurch, Torre, Cockington, Churston and Brixham are known to be Saxon settlements, they could well be much older. For example, Torre Church was originally dedicated to St. Petrox, a Celtic saint, and was located next to a spring – wells being particularly significant to pre-Christian religions. It was changed to St. Saviours after the Norman invasion. Similarly, wielle refers to a spring, hence Edginswell is 'Ecgwulf's spring', could be another possible focus of reverence.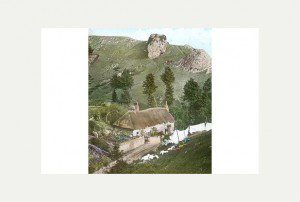 There's long been a debate over whether the coming of Christianity extinguished our belief in the old gods, or whether some aspects survived. Indeed, it was once believed that there was a witch religion which became the focus of the many witch trials of the seventeenth century – one of the last English hangings being in Bideford in 1682. Yet, scholars now don't believe in the existence of any alternative religion to Christianity during the middle ages or later.
In 1735 the Witchcraft Act abolished witchcraft as a crime – the state had decided that maleficence didn't exist. Local people, however, seemed to continue to believe in the power of witches. When an old house in Watcome was being renovated in the 1970s a mummified cat was found behind the fireplace – the animal placed there to protect the inhabitants from evil spirits. Each community had a practitioner of magic, a cunning-man or woman, who could offer protection from supernatural threats. These cunning-folk were usually to be found in rural areas, some becoming well-known figures: in the 1860s John Collander, the 'white witch of Newton Abbot', was apparently quite popular with women. Unlike witches, however, cunning folk weren't seen as the enemies of Christianity, but often allies. They faded away as medicine and education provided other explanations and cures. Nevertheless, in 1875 the clerk of Torquay's magistrates received an application by a poor old woman in Chelston, who believed that her husband had died from the effects of witchcraft.
Despite the entreaties of our educated elite who dismissed such superstitions, the great enemy of humanity still continued to cause fear. Legend had it that he lived in the caves beneath Daddyhole Plain – Daddy being the old English for Devil. In February 1855 panic was caused when the Devil's supposed cloven footprints were found in overnight snow in Barton.
Another popular folk tradition was that a race of pre-Christian beings was still around. Before the mid-nineteenth century, pixies and fairies were taken seriously in Devon with books describing peasant beliefs being filled with incidents of such manifestations. There was even a theory that pixies were a local memory of the dark-complexioned Dumnonii who had been pushed out of their villages by tall fair-haired Saxons.
These mythical creatures were believed to inhabit ancient underground sites such as stone circles, barrows or caves. Places were named after them, such as Chudleigh's Pixie's Cave. According to John Britton's 'The Beauties of England and Wales' (1803), the caves are said "in the traditions of the peasantry to be inhabited by Pixies, or Pisgies, a race of supernatural beings, invisibly small". The belief faded away in an increasingly urban Bay though some stories lingered, such as that of a dog lost in Kent's Cavern finally emerging having lost all his fur to the grasping hands of those subterranean dwellers.
In the late nineteenth century there was revival of interest in the little people. This was stimulated by the Cottingley Fairies photographs of little folk gambolling in a wooded glade. Later revealed as hoaxes, they were believed at the time by the Sherlock Holmes author Arthur Conan Doyle. It's from the Torquay spiritualist Violet Tweedale that we get one of our few modern sightings of local pixies, here quoted by Conan Doyle in his 'The Coming of the Fairies' (1922):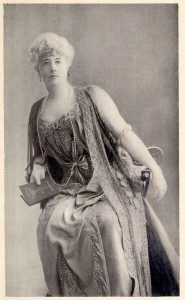 "One summer afternoon I was walking alone along the avenue of Lupton House, Devonshire. A few yards in front of me a leaf was swinging and bending energetically, while the rest of the plant was motionless. Expecting to see a field-mouse astride it, I stepped very softly up to it. What was my delight to see a tiny green man. He was about five inches long, and was swinging back-downwards. His tiny green feet, which appeared to be green-booted, were crossed over the leaf, and his hands, raised behind his head, also held the blade. I had a vision of a merry little face and something red in the form of a cap on the head. For a full minute he remained in view, swinging on the leaf. Then he vanished."
During the nineteenth century urbanisation, science, medicine and mass education gradually eroded traditional folklore. Torbay's urban intellectuals dismissed the beliefs of the rural working class and preferred the new ideas of scientific occultism – animal magnetism, spiritualism and telepathy.
We're now in the twenty-first century. Yet, while each day more of Torbay becomes built over, not everything is modern and rational. Some names and places can still remind us of our pagan past.