Contributed by Paignton Ladies and Torbay Girls Rugby Academy: An introduction to who they are and what they do….
From fun fitness sessions for girls & ladies on the beach and at Paignton training ground, led by an inspirational team of coaches, to preparing for our first friendly matches in 4 short months. With players selected to attend Devon trials and a visit from HRH Prince Harry chucked in the mix – You could say it has been an exciting few months in the life of the new Paignton Ladies and Torbay Girls Rugby Academy.
Three of our under 15s players were chosen to attend the Devon RFU trials in Newton Abbot on the 4th of October, a great accomplishment for all of them.  After a very long and intensive day, Georgia  Tayler was selected to train with the Devon squad and Beth Sinar and Nayana Aitken-Smith have both set their sights on a place next year.  We are so proud of them for representing themselves and our club so well.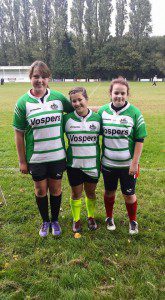 Also in October Paignton RFC were presented with a Gold Legacy Award from the RFU, great excitement filled the teams with rumours of a VIP visiting to present the award.  It turned out to be none other than HRH Prince Harry. The girls and ladies teams, along with the rest of the club, put on a great display of practice drills. Some of us were lucky enough to meet and talk with him, which we will remember for years to come.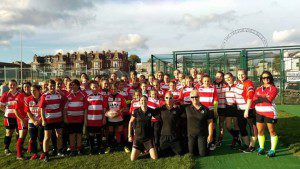 We are always on the lookout for more players for our under13's, under15's, under 18's and Ladies teams so come along and see what we are about.
Mondays:
6:30pm – 7:30pm: Juniors
7:30pm -8:45pm: under 18's and Ladies
Paignton Rugby Club, training ground, Sands Road.
Contact:  Lou on 07915 696373 for further info.