Here is an inspirational story that shows how a cloud really can have a silver lining.
Father of two, Nick Webb, from Paignton, suffered a serious injury back in 2014, and lost the use of his arm.  He underwent reconstructive surgery, and with an extensive recovery period he had to give up on his successful landscaping career.  Determined not to be beaten, Nick used this career break to pursue his lifelong interest in the arts, and Salokin Photo Art was born.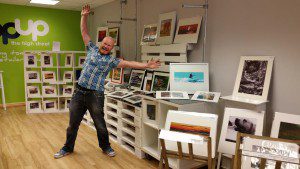 Nick remembers being in utter shock and panic, and was left wondering how he was going to support his young family.  He says 'you just have to deal with what life throws at you, and I thought I might be able to use this to my advantage'.  He adds, 'I'm lucky really, if I hadn't injured myself I don't think I would have had the courage to change my career like that. My family and friends have all been so supportive, and that gave me the confidence to pursue my dream. '
After taking millions of images, years of refining and learning, and months of planning, Salokin Photo Art is gaining momentum.  As his skills have developed he has been awarded with his general diploma in photography, had several competition wins and his work has even been selected for international competition entry.  He is also in the process of working towards his Licentiate for the Royal Photographic Society.
To top it all off, with the support of the Torbay Development Agency funded 'Pop Up in the high street', he has officially launched his new photo art business, and has his first exhibition.   He will be at the Pop Up shop, Union Street, Torquay from 5th until 23rd April.  He has had a lot of interest in his work already, particularly his 'urban' category, including the graffiti and other street imagery.  Why not go and pay him a visit?
His next step will be to find a suitable gallery to stock his 'urban' work in the South West and London, and anyone interested should get in touch via his website.
Website: http://www.salokinphotoart.co.uk/
Facebook: https://www.facebook.com/SalokinPhotoArt