Paignton's pier, green and beaches were this afternoon turned multi-coloured by 1300 people completing South Devon's brightest 5k, The Colour Rush, for Rowcroft Hospice.
Participants were challenged to complete the 5k route along Preston and Paignton beaches while being showered in rainbow-coloured powder paint.
They then took part in a mass paint throw, which saw 1300 people hurl 1300 bags of purple, blue and yellow paint sky high.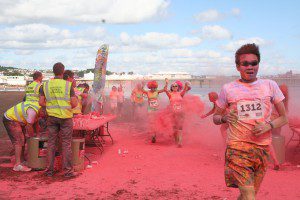 Charlotte Molyneux, who together with her husband Stewart completed her third Colour Rush for Rowcroft, said: "This has been the best Colour Rush ever. The atmosphere was great and the paint throw was lots of fun."
Stewart added: "The support we've had from the crowds today has been fantastic, people have been high fiving us along the beach!
Ryan Maxwell, 13 from Torquay, who was among the first to complete the route said: "Today's been really good, it was quite challenging running on the beach but the paint was great."
Together participants have pledged to raise £70,000 for the hospice, a total that has delighted the event's organisers.
Daniel Robson, Events Co-ordinator at Rowcroft Hospice, said: "Every day Rowcroft helps to support patients and their families in South Devon to make the most of the time they have together.
"This would not be possible without the incredible support of the local community, so we would like to thank all those who took part in The Colour Rush, and all those who sponsored the participants for their incredibly generous support."
Daniel added: "We would also like to say a special thanks to the amazing volunteers who have given up their weekends to make this event happen, without your help it quite simply would not be possible!"
Rowcroft also screened its new awareness-raising film, Love Life Every Day, at the event.
Rowcroft Hospice Chief Executive, Giles Charnaud, explained: ""A lot of people think hospices are just places where people come to die, but Rowcroft is a place where people come to live; enabling families to share those precious moments together.
"We hope that by sharing this film at events such as The Colour Rush, we will help more people understand what really happens at the hospice."
Participant Charlotte Molyneux added: "The film really brought home why we are here supporting Rowcroft today."
To view the film visit www.rowcrofthospice.org.uk/about-rowcroft or for more information on The Colour Rush, visit www.thecolourrush.co.uk.