Paignton Zoo staff and veterinary specialists have fought a valiant battle to save a sick cheetah. Male cheetah Kasai received extensive treatment using the latest technology, but in the end staff had to make the difficult decision to put him to sleep.
Animal keepers and members of the Zoo's in-house vet team were joined by experts from Cave Veterinary Specialists, based near Wellington in Somerset. Paignton Zoo Environmental Park Veterinary Associate Christa van Wessem:
"Kasai had been receiving veterinary care and treatment for a long while. Most of this time he was fine, with some not so good periods. Recently he had been deteriorating again, and also showed no interest in mating our females, which was likely due to his poor health. We decided to do a full health check to get to the bottom of his problems and asked Tom Cave and his team for their input and expertise."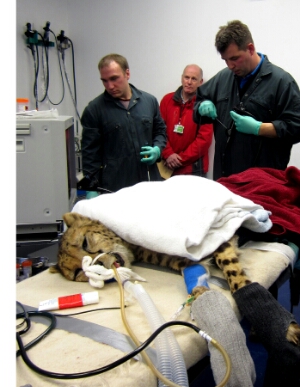 The team from Cave Veterinary Specialists included Tom Cave, a RCVS recognised specialist in Small Animal Internal Medicine and Philip Strom, an American specialist in Veterinary Diagnostic Imaging who had just arrived in the country from the USA; this was his first day in the job. They also brought their vet nurse Anna Grew. In addition, Stephen Mavin from Imotek International Ltd, a company based near Cambridge who supply ultrasound and MRI scanners, was on hand.
Christa again: "Tom Cave brought a longer endoscope than the one we have and performed endoscopy and colonoscopy, looking at the oesophagus, stomach and first part of the small intestine, as well as the last part of the large intestine. Stephen Mavin brought a portable Mylab Gamma Vet ultrasound machine for Philip to use – this gave a much better image than we could achieve and which was more helpful for diagnostics."
Christa was lead vet on the case and responsible for the anaesthesia, with Zoo vet nurse Celine Campana also on hand. Kasai was anaesthetised at the cheetah house, and once asleep and stable, transported to the Zoo's specialist Vet Centre.
"Once Kasai was connected to all the equipment and fluids, Philip did an ultrasound of the abdomen and took some biopsies of lymph nodes and liver. After this Kasai was repositioned for endoscopy and colonoscopy and again some samples of the different parts of the gastro-intestinal tract were taken. All these samples, together with blood samples taken at the beginning of the procedure, were sent to specialist laboratories for analysis. Then we woke him up in a crate and kept him at the Vet Centre for an hour or so until he was awake and fit enough to be transported back to his den.
"The whole procedure, from induction to waking up, took two and a half hours. For about two hours he was at the Vet Centre – for the first half hour we were working on him at his den."
Some abnormalities were found during the procedure, so vets decided to take biopsies and wait for the results of these and the blood samples before deciding what to do next. "Unfortunately we found abnormalities with his liver and guts – we tried treatment but he didn't respond to this and showed no improvement. Based on this, and his long term prognosis, the difficult decision was made to euthanise him ten days after the procedure."
Ghislaine Sayers, Paignton Zoo's Head of Veterinary Services, said: "We contact specialists to help us provide the best possible care for our animals – this case was a good example. Tom Cave and his team were incredible – we spoke several times to Tom before the procedure about treatment options and diagnoses. Once the results came back, he helped interpret them and draft a treatment plan. He was so keen to help us – his input was invaluable, even though the outcome was sad. On the day they brought probably about £50,000-worth of extra equipment with them!" Paignton Zoo Environmental Park is a registered charity. For more information go towww.paigntonzoo.org.uk or ring 01803 697500.
For more community news and info, join us on Facebook: We Are South Devon or Twitter: @wearesouthdevon