This little chap keeps on smiling, despite the dire threats to his species….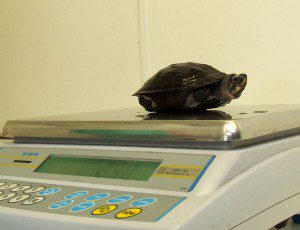 The black marsh turtle (Siebenrockiella crassicollis) is a freshwater turtle from South East Asia. Its powerful jaws have a jaunty upward curve to them, earning it the appealing common name of 'smiling terrapin'.
However, there's not much to smile about. The species is classified as Vulnerable by the International Union for the Conservation of Nature and is listed on CITES, the Convention on International Trade in Endangered Species Appendix II.
Black marsh turtles are being heavily exploited for food and for traditional Oriental medicine, even though they are culturally important to Buddhism. On top of all that, black marsh turtles are increasingly threatened by habitat loss.
The turtles shown are among five at Paignton Zoo, all too young for their sexes to be confirmed. They came to Paignton from sister zoo Newquay; both are part of the Whitley Wildlife Conservation Trust.
Michael Bungard, Paignton Zoo Curator of Lower Vertebrates and Invertebrates, explained: "We are slowly increasing the number of Asian turtles in our collection. Asian turtles are going through a huge decrease in numbers." Mike is busy building links with the US-based Asian Turtle Program, which is active in the Cuc Phuong National Park, where the Whitley Wildlife Conservation Trust already supports conservation work with other species. "At the moment we plan to show these turtles purely as an educational exhibit, but that may change depending on any links we build with the ATP."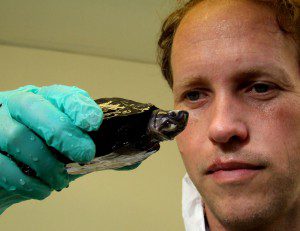 Only a handful of black marsh turtles exist in European collections, most of them at Barcelona Zoo. For now visitors to Paignton Zoo will be able to see their smiling faces in Reptile Nursery, while in the longer term that may be moved into Crocodile Swamp. Paignton Zoo Environmental Park is a registered charity. For more information go to www.paigntonzoo.org.uk or ring 01803 697500.