Paignton Zoo Environmental Park has added to its green credentials. The charity's Environmental Officer, Pete Morgan, has become the first person working in a UK zoo to qualify as a Chartered Environmentalist.
Pete gained the prestigious award through the Institute of Environmental Management & Assessment; the Chartered Environmentalist qualification is governed and run by the Society for the Environment.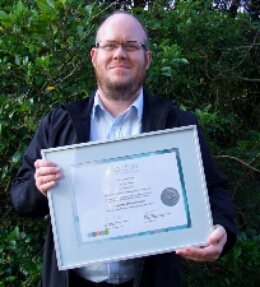 Pete: "Being a registered Chartered Environmentalist recognises that I have reached a certain level of knowledge both within and beyond my experiences at the Zoo. It demonstrates competence within and a commitment to environmental best practice.
"Hopefully this will bring some recognition that the environmental sector is more than just a green conscience but rather it has professionals who are very skilled and in my case recognised for our effort, knowledge and commitment. There is also more than a little prestige to being chartered, as it signals the validation of your professional peers."
The final application took Pete a year: "I had to write a paper on my experiences and how I met certain criteria. I did a two-hour interview conducted by two current Chartered Environmentalists to assess my knowledge, experience and suitability as a candidate. However, I have been building my knowledge and skills for the last 8 years."
Pete's new qualification also says a lot about Paignton Zoo Environmental Park. "The organisation now has someone who has reached one of the highest qualifications within their sector. It should encourage the organisation to feel that it has a member of staff who can approach the most complicated environmental issues and who is available for consultation and advice in all areas."
Pete is thought to be the first person from a zoo to become a Chartered Environmentalist and the only professional with a CEnv qualification working in a British zoo. IEMA has nearly 1,000 current Chartered Environmentalists.
The Institute of Environmental Management & Assessment (IEMA) is the professional body for over 15,000 environment and sustainability professionals from around the globe. Their role is to support individuals and organisations to set, recognise and achieve global sustainability standards and practice.
Chartered Environmentalist (CEnv) is a professional qualification that can be applied across all sectors. It provides a respected benchmark for individuals working to mitigate and solve environmental challenges.
The Society for the Environment is a not-for-profit umbrella body which brings together professional institutions from different sectors and licenses them to award the qualification Chartered Environmentalist (CEnv).
Paignton Zoo Environmental Park is a registered charity. For more information go to www.paigntonzoo.org.uk or ring 01803 697500.