A patient at Rowcroft Hospice got a festive surprise on Wednesday 16 December as his band, Bay Brass, performed a one off concert for him in the hospice's chapel.
Ted Hoare, 81 from Torquay, is the band's cornet player but was admitted to the hospice in December and as a result has missed the band's festive concerts.
To make up for it, Bay Brass organised a one-off concert in the hospice's chapel where they played a number of songs selected by Ted, including some festive favourites.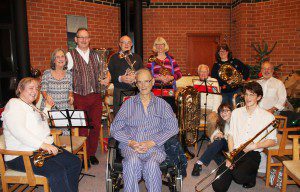 Ted said: "I learnt to play the cornet when I was about five-years-old and I have been playing in Bay Brass for a long time, I can't remember how many years now! I enjoy the music, the company and the comradery.
"I was delighted that they came in to the hospice."
Rowcroft Hospice Doctor, Tom Skinner, is also a member of Bay Brass and was delighted to be able to play for Ted in the hospice's chapel. He said: "It's been a really fun evening; it's been good to bring the Christmas sound to the hospice and bring some cheer at this time of year for the staff and patients.
"It felt very moving to be able to bring the band to Ted as he hasn't been able to play with us this Christmas."
A number of other festive treats have been planned for the hospice's Inpatient Unit in the lead up to Christmas, including performances from Shiphay Learning Academy, Phoenix Ringers and the Rowcroft choir.
Inpatient Unit Manager Sue Harvey said: "We are lucky to have some very talented local people able to share their music with us during Christmas.
"We would like to thank all those who have given their precious time over this busy period to make every day the best day possible for our patients, their loved ones, our staff and volunteers."