Police search teams were out in Torquay last night after an incident in Hele.
Emergency services were called to Salisbury Avenue after reports of a collision just after 9pm.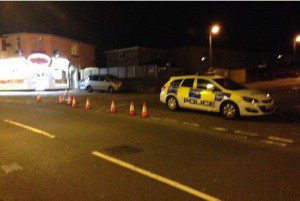 A Silver Toyato Celica had crashed through bollards and into parked vehicles. The occupant/s of the car then left the scene.
Photo Credit: Becky Traut.
The Police helicopter and dog handlers were involved in the search.
The collision comes just a day after a similar incident in Lichfield Avenue in Hele when 4 vehicles were damaged in a hit and run collision.
Emergency services had left the scene by 11.30pm last night. Enquiries are on going.
Keep up with the latest news and info from Torbay & South Devon.
Join us on Facebook:
[do_widget "Facebook like box (jetpack)"]