Torbay Council has submitted a planning application for the new Edginswell railway station.
This follows a presentation of the draft plans to the local Community Partnership group in December where a number of comments and feedback were received. These have now been incorporated, where possible, into the new application and address the design, landscaping, ecology and flood risk concerns.
The new station, which is supported by Torbay Council, is expected to open in 2018, and will consist of two platforms, both with access to shelters, ticket machines, real time information lighting and CCTV. The station will be fully accessible to all with pedestrian access from both Newton Road and Riviera Way via steps, ramps and a footbridge to platform level. Cycle access will also be provided from Newton Road with a cycle shelter at the entrance.
An associated car park, with access from Newton Road, is also included in the plans. Following feedback received this car park has been significantly scaled down from 75 car spaces to 25 along and will also include three disabled spaces and an operations space.
The station will be served by trains operating between Exmouth/Exeter and Paignton, via Newton Abbot and it is anticipated that at least four trains per hour will stop at the station from December 2018.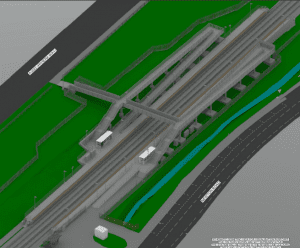 Councillor Mark King, Executive Lead for Planning, Transport and Housing, said: "This new railway station will be a great asset to the local area as it will serve the residents of Shiphay and the Willows along with staff and visitors of Torbay Hospital and the surrounding Business Park and employment areas, including The Willows retail parks. With the recently opened South Devon Highway, the station will have a big impact on the access to this area of the Bay and help our local businesses to grow and become more accessible regionally and nationally."
In addition to the submitted planning application, Torbay Council are working closely with Network Rail and Great Western Railway to achieve all of the necessary approvals for the development of the station.
Dan Okey, GWR Regional Development Manager, said: "We at GWR are pleased that this planning application has been submitted and, if successful, the development of a new station at Edginswell. The growth in rail travel in Devon and Cornwall is among the highest in the country; reflected in our increase in Paignton services and desire to deliver further improvements.
"We have a strong partnership here with the council, the community and our industry partners. We look forward to continuing to work with them to develop the new station, and to secure further improvements for our customers."
Edginswell Station will be funded by the Local Transport Board, who have already allocated £4 million of the Local Enterprise Partnership's Growth Deal settlement to the station. A further £4.2 million is still required to complete the project and Torbay Council are actively seeking funding from other sources, including the Government's New Stations Fund, additional Growth Deal, and developer contributions.
This scheme is one of four transport schemes that Torbay Council has successfully gained funding for from the Local Enterprise Partnership. Work has already commenced on the other three – the Western Corridor in Paignton, Torquay Gateway and the traffic reversal in Torre. Edginswell will complete the delivery of these schemes in 2018.
Torbay Council continues to welcome suggestions for other names for the station, as it has not been finalised. Suggestions can be sent to future.planning@torbay.gov.uk.
To view and comment on the planning application for the station visit: www.torbay.gov.uk/planningonline.