This week we played tourist in South Devon. Along with our Glaswegian visitors, we visited some of South Devon's attractions.
I have lived in Torbay for 16 years, my partner was born and bred here and our visitors had never been here.
It would have been easy to dismiss visiting certain places, we had to remind ourselves that having never visited the area, our visitors may want to take a stroll through the town centre.
Saturday:
After a long drive (I had forgotten to mention the delays at Newton Abbot. A long queue of traffic was rather disheartening so close to their destination!) It was nothing more than a catch up and bed for our visitors.
Sunday:
We were fortunate to have a dry week, it wasn't the sunniest but the weather wasn't the worst we have seen recently and was a slight improvement on the rain that Glasgow was experiencing.
A stroll along the beach, ignorant to the fact that Glasgow isn't a million miles from a  beach and the Glaswegians had actually experienced nice beaches. I guess we had expected them to fall immediately in love with the area, to throw their hands up in the air and rejoice at the site of our beautiful bay. We may have to wait for this.
A quick trip to the geo park. We have a toddler. She could tell you the location of every park in Torbay, there was no escaping the swings (minimum of 10 minutes. She has a very accurate internal timer!) This is an amazing place for children and it's FREE.
And then off to the pier.
This didn't prove successful after attempting to win a frozen doll from the grabber machines. Luck was not on our side and resulted in a very upset child. Lesson learnt. Fortunately after winning some tokens and a very kind man donating some to us (thank you kind sir) we had enough for a packet of sweets. Disaster avoided and happiness restored.
After a stroll through town (which the Glaswegians likened to Blackpool?) It was back to Torquay for a bite to eat.
After raving about the views and the food, the inevitable happened and the food wasn't great.
Tomorrow, we would need to step things up to prove Torbay was the place to visit!
Monday:
Today was all about Torquay, I rarely browse the shops. If I go into town, I have my trip planned, visiting only the shops I need to. It was nice to take a walk through the town… ending up at the harbour, we sat, chatted and watched the world go by. Add some sunshine and this could have been anywhere.
It made sense to head to the wheel next. We wanted to experience both free and paid attractions, so this would be the first of our paid.

I have been on the wheel a few times, I'm not a massive fan of heights but I had felt the need to go on. After the first rotation, confidence grew, by the second I was looking out of the window and the third, I was stood up taking photos. Much to the amusement of everyone else who sat and chatted as if we were on terra firma the whole way around. If you have a fear of heights, deep breath and get on. It is worth it for the views.
Next, off to Cockington to feed the ducks. All 5 of them. They weren't hungry which was lucky as a dog fancied the bread and took it off for a little picnic much to his owners embarrassment!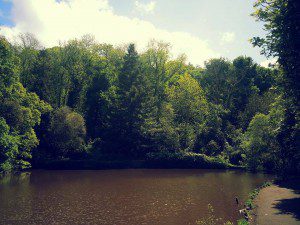 More to eat… this time, a great meal. Torquay redeemed.
Tuesday:
Today we headed for Goodrington. With a toddler in tow, Goodrington has it all – a park, a beach and a green to run about on. Not to mention a flat surface perfect for a nervous scooter rider (unfortunately she fell off as soon as we got there and the scooter was banished to the car. Bad scooter!)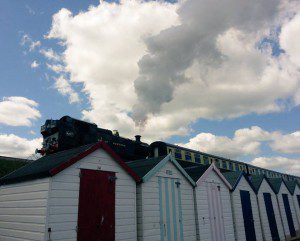 As we sat on the beach, building sand castles, a steam train passed by – this sight always makes me smile… just above the line of beach huts, you will see a steam train slowly pass by. We waved at all the people, they waved back and we have a beaming smile on a happy toddler.
We paddled in the sea, looked in the rock pools and watched a man looking for sand worms.
A trip to the park (10 minutes on the swing. Precisely) and it was back for dinner…
A trip to Torquay wouldn't be complete without fish and chips, so it was off to Babbacombe for us.
Wednesday:
Dartmoor was today's destination. I love Dartmoor, I have always felt lucky to live a short drive away from wonderful beaches and a beautiful national park.
Scotland is a beautiful country, what would they make of Dartmoor?
No trip to Dartmoor would be complete without a trip to Jay's Grave. The death of Kitty Jay changes depending who you talk to. It seems to have changed over the years but all versions suggest she committed suicide. There are always fresh flowers on the grave, no one knows how they got there but folklore suggests pixies or ghosts….
Thursday:
Kents Cavern was the place of choice for today. Having seen a leaflet on Kents Cavern, the Glaswegians wanted to go there. It had been a while since we had been (over 10 years) and to be honest I couldn't understand their excitement.
It turns out, this was to be our favourite day!
We had a tour by a knowledgeable guide, who clearly enjoys her job. To keep a toddler engaged and interested takes some skill. Days later and she is still talking about Kents Cavern 'cades'.
I don't want to say too much about the tour as it is something best experienced in person.
In future, when we have visitors,  this will be the first place on my list.
Following the tour we searched for treasure and went on a woodland walk before taking the path to Meadfoot beach.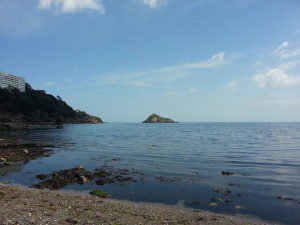 A busy day was followed by a night in watching DVDs.
Friday:
The last day for our visiting Glaswegians. A quick trip out before filling up at an all you can eat Chinese in preparation for the journey back to Scotland.
We went for a walk at Hopes Nose. Hopes nose has one of the best views in the bay, I was sure they'd be impressed by this place and I was right… despite the clouds, the view was still amazing.
There are many places in Torbay and South Devon that we could, maybe should have visited. We need to start making a list for next time!