Living Coasts is highlighting the issue of climate change with a parade of petite painted polar bears.
Torquay's coastal zoo and aquarium is running the free trail between 25th May and 31st August. Businesses around Torquay harbour will have the mini polar bears on display throughout the summer.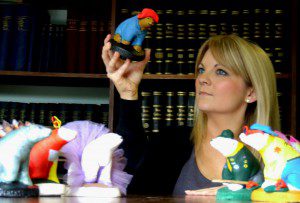 The trail, which is sponsored by the English Riviera Wheel, follows on from the successful mini penguin trail the charity ran last year. Free trail sheets will be available from Living Coasts from Monday 25th May.
Living Coasts spokesperson Phil Knowling said: "We have some really amazing mini polar bears – we have a Batman bear, a ballet bear, a Cub Scout bear – even a dinosaur bear. This is a fun trail but behind it there's a serious message – species like polar bears are threatened by climate change – as are we!"
Pole to Pole is an international campaign against climate change. Zoos across Europe are taking part. Scientists are clear about the devastating effects that global warming above 2⁰C will have. The Pole to Pole campaign is asking national governments and the European Union to help keep global warming under the crucial 2⁰C limit, and to work towards a binding global agreement at the intergovernmental meeting on climate change in Paris in December 2015.
So scientists and conservationists are doing their bit. What about the rest of us? We can help simply by turning things off. Leaving devices like mobile 'phones, tablets, TVs and games consoles on standby uses energy. As a continent we are pumping out about 19 million tonnes of C02 per year to make power no one uses. Altogether, standby power is responsible for about 1% of global CO2 emissions. It's a waste of energy and a waste of money – a household could save £30 a year by pulling the plug.
There's a petition where you can register your contribution and make your voice heard – go to www.poletopolecampaign.org. "By choosing to make simple changes in our everyday lives we can all live more sustainably. It's a gloomy message, but there is a positive side – save energy and you save money!" http://www.livingcoasts.org.uk/conservation-research/pole-to-pole