Police have warned the public about telephone scams after an elderly woman from  the Totnes area
was scammed out of £6000 by fraudsters.
The woman, in her 80's was persuaded to hand over the money after being told her money was at risk on the bank.
She was called by a fraudster on 5th November, who said he was from the Serious Fraud Department of the Metropolitan Police.  The man told the victim that there had been fraudulent acitivity on her account and the offenders had been apprehended. The victim was then asked to withdraw money from her account and then return home and call him back. She was then persuaded to hand the money as 'evidence' to a female who visited her later.
Three other incidents were reported in Devon on 5 and 6 November where the victims were asked to hand over money. A 76-year-old woman from Plympton, a man from Totnes and 53-year-old woman from East Torrington were all contacted by fraudsters but refused to hand over any money.
A police spokesperson said: "We are urging the public to be wary of these types of calls and would encourage residents to talk to neighbours, relatives and friends about these crimes to make them aware.
"Victims of these scams are often elderly and can be left confused and without thousands of pounds."
"Although only one or two incidents occur each month across Devon and Cornwall, the impact can be devastating for the victim.
"Police will not make contact in this way and will never ask for bank account details to be disclosed or money to be withdrawn. If in any doubt about the validity of such calls, call the police on 101.
"If you have handed over any bank account details to the fraudster, call your bank and cancel your cards immediately.
"Fraudsters pretend to be calling from the bank or from the police and are incredibly convincing that the elderly person's money is at risk in their own bank account.
"In some cases, they will ask for bank details and encourage the victim to call their bank, whilst keeping the phone line open, fooling the victim into believing they are calling their own bank or the police.
"They then ask for the money to be handed over to another stranger, transferred to another bank account or ask the victim to buy an expensive item.
"The latest scam is to ask the victim to transfer money through a foreign currency exchange."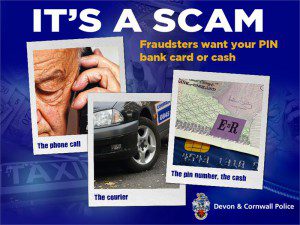 To report an incident, call Action Fraud on 0300 123 2040 or visitwww.actionfraud.police.uk/report_fraud
For more advice visit the fraud section of the website:
https://www.devon-cornwall.police.uk/crime-prevention/your-money/fraud/courier-and-telephone-fraud