Police have warned to be aware of explosive devices after a third device is found in 10 days.
An unexploded WW2 aircraft rocket has been discovered today on the costal path at Strete.
The area was cordened off by police ready for MOD bomb dispsosal experts to arrive to make the device safe.
On the 8th February, an unexploded anti vehicle mine was found on Blackpool Sands. A 6inch shell was also discovered in Strete near the new coastal path on the 4th February.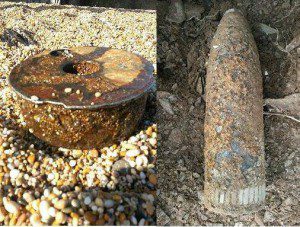 Dartmouth Police said on Facebook:
"Police would like to reiterate safety advice to the public, if anyone should find anything they are not sure of whilst out walking, DO NOT touch it, and please call 999 immediately"