The second wave of Grinagog's line up announcement is here! The music acts will be located across a number of venues across Torquay.
Punk-rap trailblazer RAT BOY's rebellious collision of genres will be blaring from the Grinagog Main Stage PA this April, following a crazed 2016 in which he provoked chaotic scenes at Glastonbury, Reading and Leeds festivals. Described by NME as "A potent mix of Blur's cockney knees-up side, the urgency of The Libertines and Beastie Boys", by Noisey as "the next in the lineage of Ian Dury and Mike Skinner", and counting luminaries such as Tyler the Creator amongst his fans, this skateboarding troublemaker will set the stage alight. This show will be accessible to those with a Teen Ticket.
New additions joining him at Grinagog include the UK jungle legend that is Congo Natty (formerly known as Rebel MC) with his distinct dread-infused bass 'n breaks vibe. Also on a reggae influenced DnB tip, we will be welcoming dons of the dubby bassline, Serial Killaz to the turntables. Grime-metal heads Hacktivist are set to bring devastating grooves and insightful rhymes, and one of the most kinetic live acts around, Heck, will bring their grunge-meets-hardcore madness to the Mosh Rock Stage where all-girl Kerrang! Favourites Evarose will also do their powerful rock-pop thing.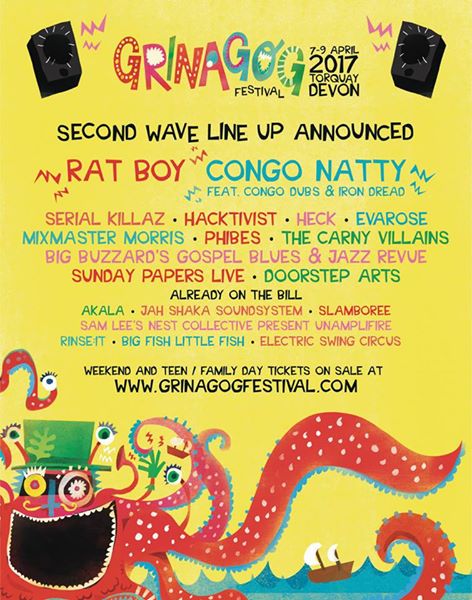 Torbay's Elected Mayor, Gordon Oliver, said: "Through funding from the Coastal Communities Fund and the Mayor's Events Fund, Torbay Council is proud to facilitate this wonderful music festival. This event will provide access to great artists right on our doorstep and will be enjoyed by many of our young people and visitors.
"In addition to the music festival, visitors to Torbay will also be able to enjoy all of the great things we have to offer here. We will be utilising our existing venues in Torquay, which will bring an economic boost to local businesses and I am confident that with local support this event will be sustainable future years."
Making its way out of London for only the second time, cerebral downtime masters SundayPapers Live will come with a host of inspiring talks, passionate debates, creative master classes and Bloody Marys, whilst Totnes' award-winning institution, Drift Records, present a whole programme of acoustic delights in Torre Abbey's monastic chapel.
Already on the line up: Akala, one of the UK's finest MC's and wordsmiths, Jah Shaka, legend and godfather of the UK Reggae and Sound system Culture, Mercury Award-nominated folkie Sam Lee's The Nest Collective UnampliFire, snooker-turned-turntable maestro DJ Steve Davis with Gong producer Kavus Torabi, vintage remix party starters Slamboree, 10-piece charlston collective Electro Swing Circus hit the Swingamjig stage, the South West's finest Drum n Bass purveyor RINSE:IT, cosmic maestro Mixmaster Morris, twisted disco kings Bizarre Rituals , and for the young one's the best family rave experience Big Fish Little Fish…plus of course DJ Chris Tofu and the Vintage Remix ! See website for the all-singing-all-dancing line-up.
All this alongside Pool Parties, Roller Discos, Paddle Boarding, Short Films Screenings, street performers, Art Installations, award-winning food and much more.
ABOUT GRINAGOG
For it's very first year, Grinagog will feature a myriad of musical genres represented across 15 stages, ranging from the stunning historical 12th century Torre Abbey to bustling harbour-side nightclubs and rock venues with over 200 live bands, solo artists and DJs. With a "No Mud Guarantee", palm trees aplenty and adventures big and small; get ready to escape the humdrum with Grinagog in Torquay against the backdrop of the stunning English Riviera.
For those of you familiar with the work of the infamous party man and Torquay native DJ Chris Tofu, you will know to expect only the biggest and brightest production, incredible performances and a whole host of weird and wonderful goings on. His award-winning Continental Drifts production team's creations at Glastonbury's Shangri La, Boomtown and Bestival have become some of the most exciting features on the UK festival scene.
What is a "Grinagog" you ask? Grinagog is an old Devonshire term for "someone who is perpetually smiling". For us, the term refers to a party-starter, a good times-instigator, a mischief maker who revels in the joy of music and culture. See you by the sea!
Festival organiser DJ Chris Tofu said: "All my life, I've looked at Torquay and seen it as one humongous great festival site…with no mud! The place is like the ultimate festival venue, and I should know because I've started loads of festivals. I'm putting everything I possibly can into making an extremely diverse, cultural offering for young people in Torquay. We're bringing together all the amazing promoters and cultural workers who are in the town and the surrounding area already into one big pot to create a cultural explosion that we hope can really be a place maker for this town."
You can join us on our social media pages, follow us on Facebook or Twitter and keep up to date with whats going on in South Devon. Got a news story, blog or press release that you'd like to share? Contact us