Safer Communities Torbay is reminding parents and carers to make sure that their little monsters respect 'No Trick, No Treat, No Thanks' this Halloween.
Councillor Robert Excell, Executive Lead for Community Services at Torbay Council, said: "Halloween can be fangtastic fun but it's not for everybody. We would like everyone in Torbay to be able to enjoy their Halloween, whether they decide to take part in the celebrations or to avoid them completely."
During the run up to, and on, Halloween Torbay Council's Community Safety Team and Devon and Cornwall Police will be reminding local shopkeepers of their right to refuse to sell eggs and flour to any person who they believe intends to use the items for anti-social purposes.
Community Safety Sergeant Carmen Desborough from Devon and Cornwall Police said: "We hope that residents who choose to celebrate Halloween this year have a scream, but those wishing to avoid the festivities must also have their wishes respected. Anti-Social Behaviour and other disorder will not be tolerated in Torbay.
"On Halloween we ask all parents and guardians to check the whereabouts of their children, and to ensure that they are accompanied by a responsible adult when 'Trick or Treating'. While there are lots of residents who are happy to take part in providing children with tasty treats, some residents including older people and those who may be more vulnerable, are entitled not to be called upon. Please remind children that 'Trick or Treating' is a game, not a right and if someone doesn't want to play that must be respected."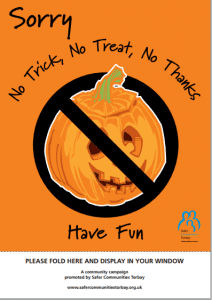 No Trick, No Treat, No Thanks posters can be downloaded from www.safercommunitiestorbay.org.uk/Halloween. A limited number of posters for those who do not have access to the internet or a printer will also be made available in Torbay libraries.