With the news of another appalling rise in rhino poaching still ringing in our ears, one conservation charity is sending a powerful message with a sculpture named Hope.
Hope is a life-size fibreglass rhino, one of forty in Paignton Zoo's Great Big Rhino Project, which is putting a free public art trail onto the streets of Exeter and the English Riviera to raise awareness for rhino conservation.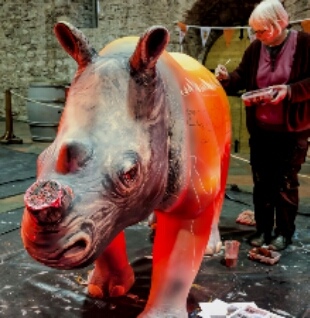 But Hope is not like the other rhinos – she has had her horn cut off to show the horrors of poaching in graphic detail.
Paignton Zoo's Pippa Craddock: "I want people to find Hope shocking – because poaching IS shocking. Some people may be put off by her appearance, but this is the reality of the situation. Hope illustrates exactly why we are running The Great Big Rhino Project."
Paignton Zoo artist Sue Misselbrook is painting Hope in the medieval Spanish Barn at Torre Abbey, Torquay. People can watch the work in the run-up to the Easter holidays.
At the end of July Hope will go out on the free public art trail around South Devon. She'll return in October, when her sponsors, Plastic Surgeon Fine Finishers, will put her horn back on. Pippa: "If only we could do that in real life."
Cathy Baillie, from Plastic Surgeon Fine Finishers, added: "We're glad to be supporting The Great Big Rhino Project and hope it gains maximum exposure to highlight the cruel and inhumane practice of poaching."
The Great Big Rhinos will come alive on Saturday 30th July. Money raised will be channelled through Save the Rhino International. Rhinos have been around for 40 million years. There are five species: black, white, greater one-horned, Javan and Sumatran. All of these are threatened with extinction.