Passengers travelling along the Riviera Line that links Exeter with Torbay are now benefiting from a more pleasant travelling experience as work on Torquay's Grade II listed Station is now complete.
Since 2012 Torbay Council, Network Rail and First Great Western have worked in partnership to restore the stations and historic infrastructure across the Bay's three rail stations. The work included refurbishing and aesthetically enhancing the stations by restoring their historic infrastructure and redecorating them in the traditional Riviera colours of poppy red, holly green and honeysuckle cream.
Gordon Oliver, Elected Mayor, said: "I would like to thank Network Rail, and their contractors for the Torquay Station Sisk Rail, for managing and carrying out this ambitious and complex programme of works while at the same time ensuring the impact on rail users was minimal. The works represent a significant investment in our historic built environment and Torquay now has the station it deserves which provides a beautiful gateway to the English Riviera."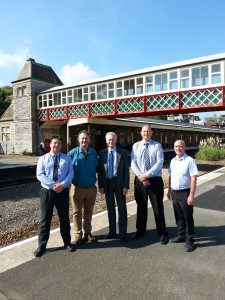 Simon Gyde, Network Rail's Asset Manager for the Western Route, said "The refurbishment work at Torquay is the culmination of Network Rail's two year programme of work to restore the 'Riviera Line' stations at Torre, Paignton and Torquay back to their former glory. Earlier phases included the restoration of the footbridges and canopies at Torre and Paignton together with the signal box and road bridge at Torquay. This phase has seen work on the station buildings and footbridge at Torquay which are all listed."
As part of the partnership the landscape has been refurbished and maintained by community group ROC Aspects and First Great Western who last year received national recognition for this.