RNLI Chairman of the Trustees, Charles Hunter-Pease will join volunteers at Exmouth Lifeboat Station on Saturday 9 May 2015 to name the first Shannon class lifeboat in the south west.
The dedication and the naming of R and J Welburn will take place at 11am, exactly a year after her arrival at the south Devon lifeboat station. Over the first eight months on service (May 2014 – January 2015), the Shannon class lifeboat at Exmouth has launched on service 16 times, including:
Towing a fishing vessel to safety through the night, across Lyme Bay. A service lasting over eight hours in the dark and challenging sea conditions;
Rescuing a swimmer in difficulty in the Teign estuary, in which the new A frame was used;
Assisting Devon and Somerset Fire Service with a fire on a boat in the Exe estuary.
The R and J Welburn was funded by a generous local legacy from Joan Welburn who died in 2009. Joan's late husband Raymond was related to Captain Michael Hansley Welburn, the Coxswain at Humber RNLI who died on service aged 37, in 1853.
Exmouth RNLI Coxswain Steve Hockings-Thompson said;
'Our sincere thanks go to the late Joan Welburn for her generosity in providing us with the first Shannon class lifeboat in the south west. It is most fitting that a memorial to her late husband, a relative of a courageous, selfless man who gave his life to save others, can equip our volunteer crew with the latest state-of-the-art lifeboat. This has brought life-saving at sea at Exmouth RNLI into the 21st century.'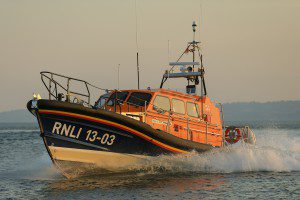 The Shannon is the latest class of all-weather lifeboat in the charity's fleet. It is capable of 25 knots, making her 50% faster than the Mersey class she replaced at Exmouth. R and J Welburn has increased manoeuvrability and features water jet engines, allowing the volunteer crew to operate in shallower waters.
The naming ceremony at Exmouth Lifeboat Station is an invite only occasion, but the general public are welcome to view the event from the promenade.