Sometimes you have to think twice before writing an article on local history.
Usually past events are so long ago that describing them doesn't directly affect anyone. Indeed, we've covered really sensitive subjects before – the murder of children in Torquay, for example, but that was in the mid-nineteenth century.
However, with terrible events that happened fairly recently, where people could still be around who may have never recovered, it does take some thought before reminding ourselves of a Torquay tragedy. Yet, history offers lessons about what some of us are capable of, and to encourage us to look at ways of avoiding deadly events.
This is about a shocking few minutes in 1974 that left four people dead. Such incidents aren't confined to faraway places. They can happen here, because they already have…
In the early 1970s Roebuck House on Torquay's Abbey Road was occupied by Department of Employment offices and a Post Office sales section.
It was on October 3 1974 that the Police were summoned to the building by a telephone caller who said, "There is a man here going mad".
The man was 31-year-old Michael Anthony Brown, originally from Ipswich. On that Thursday Brown walked into the Employment Office and asked for directions. Revealing a hidden single-barrelled shotgun he then forced his way into an open-plan room filled with office workers. One young worker said that the gunman, "just came in and started firing. People were running willy-nilly. There were about six or seven people in the room at the time and about 35 in adjoining offices. I just got up and ran."
It was in the office that Michael Brown shot and killed his first victim. This was 25-year-old clerk John Leggo. John was married with a newly-born baby.
Michael Brown then walked downstairs and shot a young female typist. 25-year-old Sally Yeo was killed while leaving the building by a rear staircase. Sally's mother, incidentally, was a widow whose husband had been killed during the war.
Finally, Brown returned to the third floor and murdered his third victim, 40-year-old executive officer Kenneth Watkins.
When the Police arrived they initially believed that the gunman was still alive and called the building with loudspeakers, telling the staff to barricade themselves in and hide under desks. By then, however, Michael Brown had returned to the open-plan office. It was later reported that he announced, "I am sorry. I am sorry, but I can't go on any longer". He then turned the gun on himself.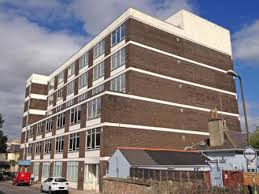 When the Police subsequently entered the building they found a body with a single-barrelled 12 bore shotgun lying beside it. Terry Lander a 26-year-old Post Office clerical worker told the media that he was one of the first to realise the attack was over. When the shooting stopped he found Sally on the stairs and then the body of the gunman.
Following the tragedy local woman Mary Keanes, who lived opposite Brown's flat, told the press that he was a, "nice, quiet man. He struck me as a man who studied quite a lot. We had some holiday visitors staying in one of the flats and he complained about the noise, saying he would move out if it continued as he had to study. Each week he got an envelope from the Social Security. He kept himself very quiet – never made a noise. He had a few friends. We never saw any girl friends."
Later, other acquaintances of the deeply disturbed Michael Brown said that he had become convinced that the Department of Employment staff were laughing at him due to his disability – he was of restricted height. Of course, they wern't.
We began by saying that history can warn us of dangers and guide us towards solutions. If the Roebuck tragedy tells us anything it can be about how right we are to restrict access to firearms. It also suggests how important it is to have good services in both the statutory and voluntary sectors for those of us suffering from mental illness. We can always learn from our history.