Dust off your neon leggings, pump up your shoulder pads and prepare to go back to the 80's for Rowcroft's Sleep Walk 2016. The hospice has today announced that the hugely popular, sell-out fundaising event will take place on Saturday 9 July and take on a 1980's party theme. The 80's theme was chosen following a poll on Sleep Walk mascot, Barbara the Sheep's, Facebook page.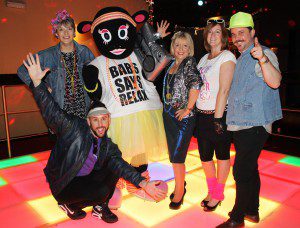 Daniel Robson, Events Manager at Rowcroft, explained: "We really value the support of our online community and all those who have taken part in previous Sleep Walks so wanted to get their opinion on our annual Sleep Walk theme.
"We are delighted they have chosen to go back to the 80's for this year's event, we're planning South Devon's biggest girls' night out; an evening full of colour, music and totally awesome 80's memories…it will be awesome!"
Organisers have also released details of the five and ten mile routes, which will start and finish at Torbay Leisure Centre, taking in some of the Bay's most stunning scenery.
Daniel explained: "This year's route is similar to last year's but with some special 80's themed surprises along the way. I'd say more, but I don't want to give too much away!"
Registration for this year's event opens on Wednesday 20th January and ladies over ten-years-old who'd like to take part are urged to sign up as soon as possible.
Daniel said: "For the last two years The Sleep Walk has sold out in record time and we don't want anyone who's looking forward to taking part to miss out. We'd urge you to make a note of the registration date and sign up as soon as possible to guarantee your spot, and make the most of our early bird discounted entry price."
All those who sign up will be asked to raise sponsorship to help the hospice make every day the best day possible for people in our local community living with life-limiting illnesses.
A patient at Rowcroft recently said: "The care and help that I have, and am still receiving, is wonderful. Everyone is so very kind and most considerate – everyone has a smile! Thank you all very much."
For regular updates on The Sleep Walk 2016, like Barbara the Sheep on Facebook or visit www.rowcroftsleepwalk.org.uk.