Rowcroft is inviting people across South Devon to take part in its most delicious fundraising campaign of the year, The Big Bake.
During the month of June, South Devon's local hospice is inviting budding bakers to hold their own coffee mornings or bake sales and donate the funds raised to the hospice.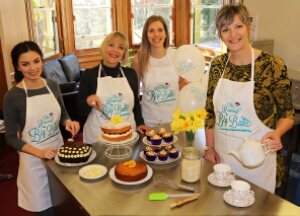 All the money raised will help to support local people and families who are living with life-limiting illnesses.
Community Fundraising Manager at Rowcroft, Hayley Norrish, explained: "Organising a Big Bake coffee morning or cake sale is the perfect way to get together with friends, family and colleagues, have fun and raise money for people in your community who need your help.
"Simply invite your friends over for a nice cuppa and a delicious slice of cake and donate the funds you raise to Rowcroft – it couldn't be easier or tastier to take part!"
Every pound raised by the campaign will make a huge difference to Rowcroft, helping patients such as Marian from Dartmouth to receive vital support and services.
Marian said: "Rowcroft is so important to the local community, it has helped me a great deal; the gardens are lovely, there's a wonderful feeling of peace and tranquillity and the staff and volunteers didn't treat me as if I was ill, they treated me like a normal person."
To take part in Rowcroft's Big Bake, simply pick one day in June to hold a coffee morning, bake sale or bake off and either register online by visiting www.rowcrofthospice.org.uk/big-bake or call 01803 210835.
Once registered, Rowcroft will send you an exclusive fundraising pack including cake flags, icing cake toppers and an exclusively-designed Big Bake table cloth.
Hayley added: "You can organise your Big Bake coffee morning any way and anywhere you like.
"Whether it's at home, work, school or at the village hall, we are here to support you with everything you need to make it a flan-tastic event!"
For more information, visit www.rowcrofthospice.org.uk/big-bake.