Registration is now open for Rowcroft Hospice's totally awesome 1980s-themed ladies-only night walk, The Sleep Walk, taking place on Saturday 9 July.
So dust off your neon leggings, pump up your shoulder pads and send those tresses sky high, because ladies who sign up online before 29th February using a discount code will secure their place for only £12, instead of the usual £15 full ticket price.
To get a discount code, simply visit our Sleep Walk's mascot page on Facebook by searching for Barbara the Sheep – The Sleep Walk.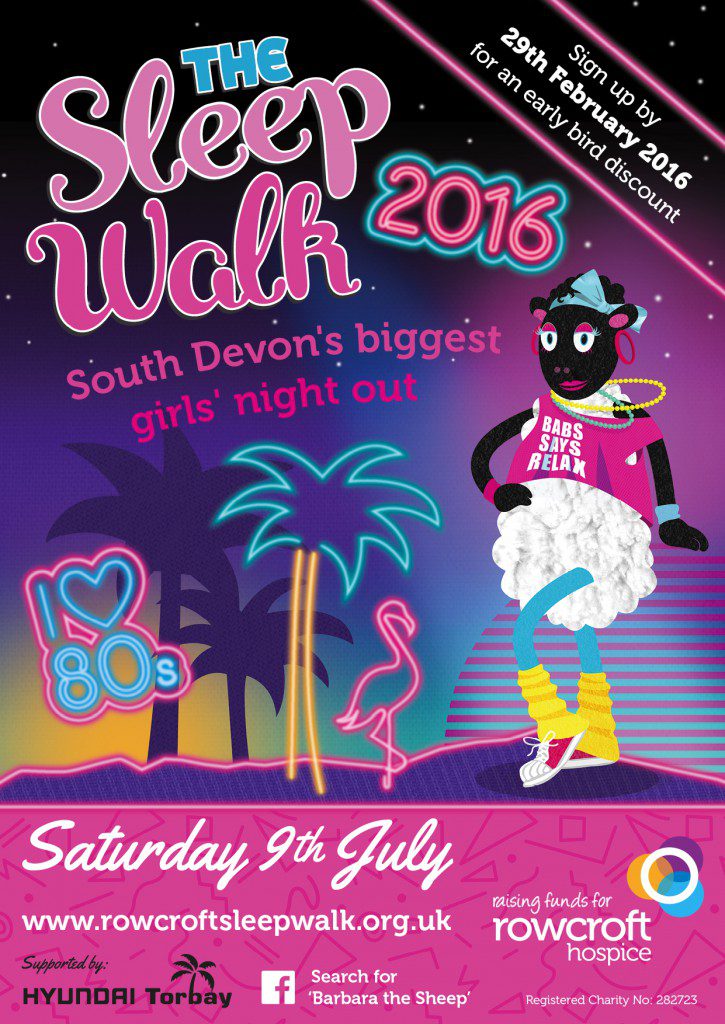 Karen Mason has taken part in every Sleep Walk since her sister was cared for at Rowcroft in 2009. She said: "Help more local families to receive the same care my sister did by signing up to take part in this fantastic event. The atmosphere on the night will be electric; you'll make new friends, catch up with old ones, laugh, make brilliant memories (and maybe ache the next day)! But, most of all, you'll be doing something amazing for people living in your community who really need your help."
This year The Sleep Walk is starting and finishing at Torbay Leisure Centre and ladies who sign up will be asked to get into the groove and complete their choice of five or ten mile routes past some of the Bay's most stunning scenery after sunset and into the night.
Rowcroft's Events Manager, Daniel Robson, said: "This year's route has some special 80s themed surprises along the way. I'd say more, but I don't want to give too much away!"
All those who sign up for South Devon's biggest girls' night out are asked to raise as much sponsorship as possible to help local families get the support they need to share laughter, tears, cuddles and precious moments together.