Staff and volunteers at Rowcroft have been overwhelmed by the outpouring of support received since the hospice announced it was facing a funding shortfall but are now calling for renewed support in order to secure the hospice's future.
Rowcroft announced in July that it needed to make £1.1million in cost savings and raise an additional £585,000 by the end of the March to return it to financial stability.
Since making the announcement, the hospice has received more than £300,000 in support, including hundreds of donations, with more than 450 people committing to make monthly donations and over 300 signing up to play the Rowcroft Lottery. In addition to this the local community have rallied organising coffee mornings, cake sales, craft fairs, auctions and more.
Acting Chief Executive, Jon Hill, said: "We have identified that we need to raise £585,000 before the end of March 2017 to return the hospice to financial stability. This amount is in addition to our regular fundraising income targets and our cost reduction measures.
 "Rowcroft's supporters have already gone a great way to helping us reach this target and we'd like to say a huge thank you to all those who have supported us for their very generous donations; every single pound has been hugely appreciated, as has every word of encouragement.
 "We continue to face an incredibly difficult and challenging time and cannot express enough how grateful we are for the support of the local community."
Every year it costs Rowcroft well in excess of £8m to provide its services, and of this almost three-quarters is funded through donations and legacies. The NHS provides funding for the remaining 27% of the costs incurred by the hospice.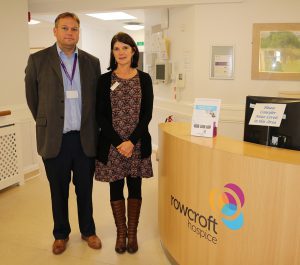 A decline in the hospice's legacy income, increase in demand for services and the financial pressures on the NHS have led to the current funding position.
Jon explained: "Over the last few years we have made it our priority to invest in services that meet the needs and growing demand of our local community.
 "Unfortunately, despite our best efforts and a 13% growth in fundraising income we have not grown quickly enough to sustain all of our services so are calling on our local community to help return us to a place of financial stability, from which we can start to rebuild services.
 "Our priority is still to provide outstanding end of life care to the people of South Devon, and at no point has or will that change."
Rowcroft's Inpatient Unit Manager, Sue Harvey, added: "Please, if you haven't already, visit www.rowcrofthospice.org.uk to find out more about the services Rowcroft provides for people in South Devon, and consider making a monthly donation or signing up to play our lottery.
 "We are so grateful for the support we have received so far but there is still a long way to go. Anything you can give will make a real difference – thank you."
More information about Rowcroft's funding shortfall and how to support the hospice's services can be found at www.rowcrofthospice.org.uk. Get weekly news by email